Microsoft Corp. (NASDAQ: MSFT) on Monday announced that it has taken nearly 4% stake in London Stock Exchange Group (LSE: LESG), the company that owns the London Stock Exchange as well as a several other businesses including financial market data company Refinitiv which LSEG acquired from a Blackstone/Thomson Reuters consortium last year for $27 billion.
Microsoft bought the stake form the same Blackstone/Thomson Reuters consortium. The acquisition constitutes part of a 10-year partnership with the LSEG.
Also read: Vacancies at PZ Nigeria – Managerial positions at different locations
The partnership involves next-generation data and analytics, as well as cloud computing products, according to a statement by the LSEG. It includes a new data infrastructure for the London exchange and analytics and modelling solutions with Microsoft Azure, AI, and Microsoft Teams.
The deal will see various Microsoft products used across different parts of LSEG's business. Microsoft will migrate the bourse's data platform and other key tech infrastructure into its cloud built on Azure, the U.S. giant's large public cloud product.
Under a contractual agreement, LSEG will spend a minimum of US$2.8 billion over the 10-year period of the contract on cloud-related products with Microsoft.
Microsoft's executive vice president for the Cloud and AI Group, Scott Guthrie will be appointed as a non-executive director of LSEG. the release stated.
"This strategic partnership is a significant milestone on LSEG's journey towards becoming the leading global financial markets infrastructure and data business, and will transform the experience for our customers," David Schwimmer, CEO of LSEG, said in the statement.
Microsoft and LSEG will also work together in developing new professional collaboration tools. LSEG has developed a product called Workspace, a data and analytics platform. The two companies will be working on advancing this product and integrating it with Microsoft Teams, the firm's messaging app.
LSEG was listed on the London Stock Exchange on 15th May, 2006 and has a market capitalization of GBP 37.31 billion. Its share price currently stand at GBP 7,564.00.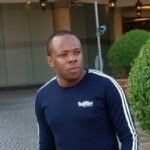 Nnamdi Maduakor is a Writer, Investor and Entrepreneur