EURUSD
EURUSD continued rallying and performed exactly as price action indicated. EURUSD bounced nicely from 1.14212/1.1420 and it started acting as supported and so did 1.150 and 1.160. Buyers broke and confirmed 1.160 on daily and weekly time frames.
Fridays close confirmed a break on weekly time frame, this indicates strength and we will most likely see more strength from EUR against the green back, with a likely monthly close above the multi year wedge pattern we have been tracking since May.
This pattern is important because a confirmed close will mean we will like to be buyers than sellers of the EURUSD in the long run. Indicating the buyers are not done yet with the most traded currency pair in the FX market.
In the week ahead I will like to see 1.160/1.16017 attract buyers on a retest such an event will provide the favorable risk to reward ratio. Key resistance in the way up may come in around 1.18199/1.1820 followed by 1.20293/1.2030.
EURUSD daily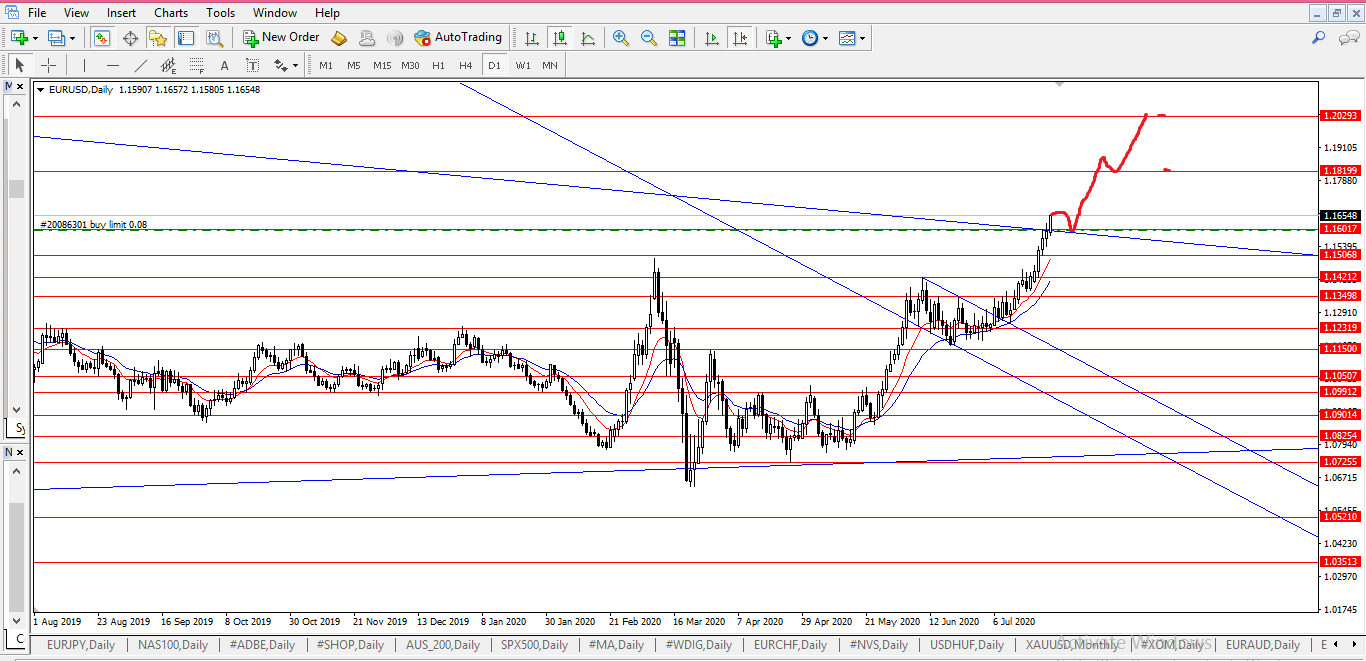 Read also; CFDs Review July 20, 2020 to July 24, 2020: Forex, Indices and Commodities
EURUSD weekly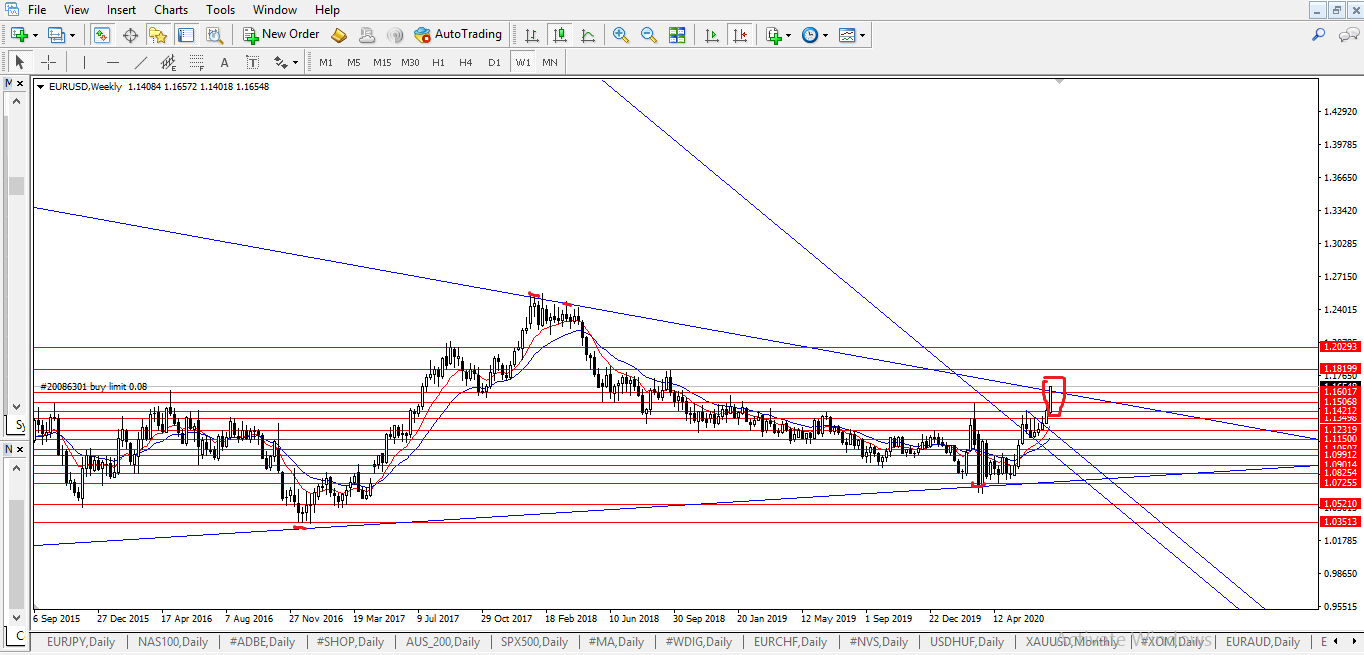 NZDUSD
Last week we had our eyes on 0.650/0.658 confluence of resistance zone. This area has been extremely significant on the daily, weekly and monthly time frames. Recall from previous forecast that I stated that the month of June confirmed the brake of the multiyear wedge in March as a false break. Most often than not a false brake results in extended move in the opposite direction.
The daily and weekly confirmation of the break out from  0.650(wedge top) will be a catalyst for an upcoming rally. A retest of 0.65810 might attract buyers and provide an opportunity to get long. Key resistance include 0.67391 followed by 0.69393.
Alternatively a close back below 0.65810 will keep NZDUSD in consolidation and expose 0.64028.
NZDUSD daily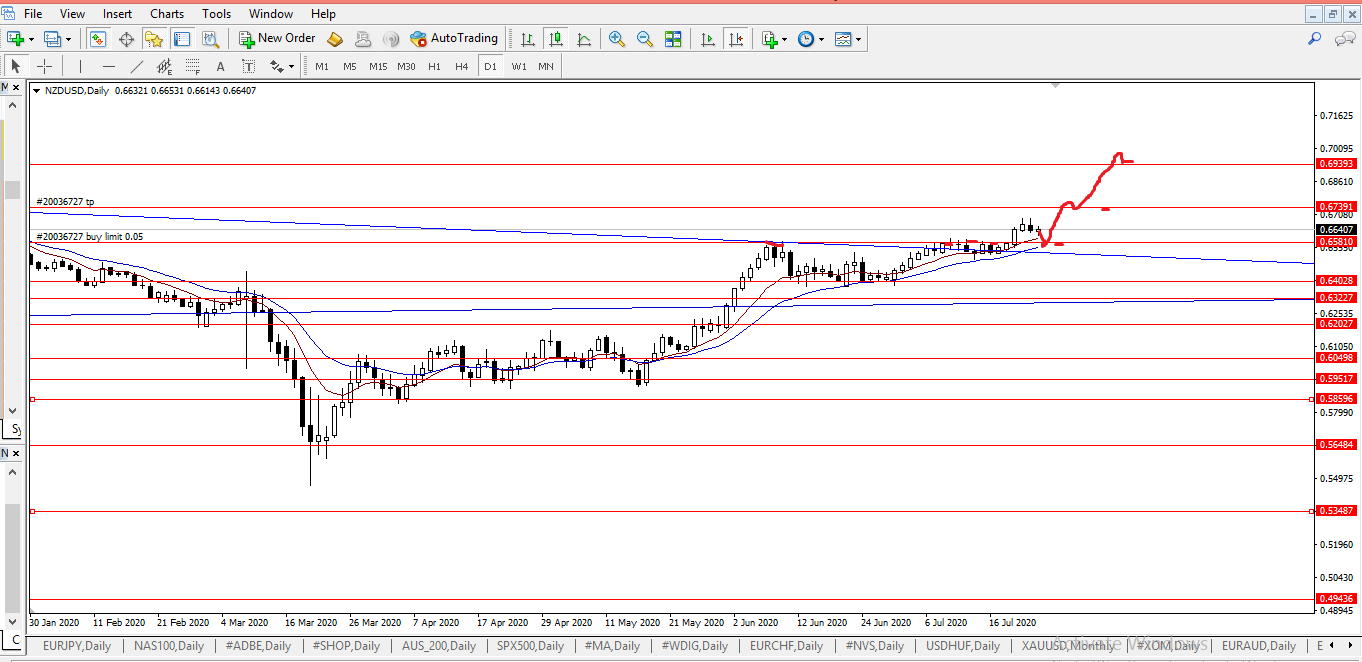 GBPNZD
GBPNZD played out well since it broke out of the trend line that we discussed and has moved down to the area of 1.90583 channel support. The last forecast I made on this we discussed the chances that we might see the ascending channel break down.
That opinion has not changed and will not change as long as GBPNZD stays below 1.93826 resistance. Thursday bounced off 1.90524 support looks convincingly bullish but as I said earlier only a close above 1.93826 will make me change my bearish stand at least for the short term.
A confirmed close below the channel will expose 1.82727 followed by 1.74208.
Alternatively if the bulls are able to close 1.93826 and retest it as new support that will expose 2.000.
Read more; Airtel Africa Plc Profit slumps by 57% in the first quarter of its financial year
GBPNZD daily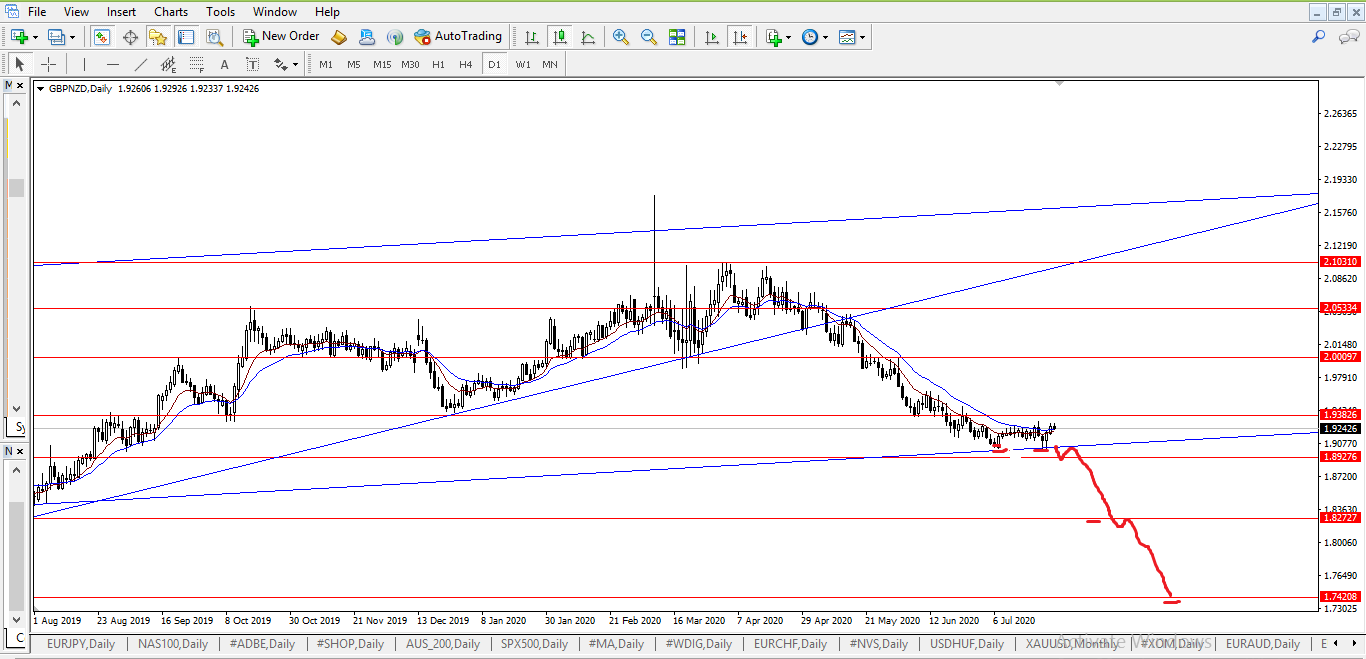 XAUUSD
Gold has been in continues long march and is currently approaching all time high in the area of 1925.
 Gold has been rallying since august of 2018 however the recent run I believe might met with serious resistance at 1925. We might get some kind of pull back or consolidation or sell off as it happened the last time gold reached 1925 in August of 2011, only time will tell.
If we get a continuation consolidation that will signal a move higher with no pre-established resistance above 1925.
A sell signal from 1925 will signal a possible large sell off.
XAUUSD daily
GBPJPY
GBPJPY has been on my radar for weeks, I have not written about it because I have not seen much momentum even though it bounced off channel support  of 131.901 on 30th June 2020 that had me watching for a sign that will pique my interest, and improve the chances that the pair will ascend to the channel top in the area of 144.405.
Immediately after that rejection at support 131.703, GBPJPY consolidated. During the 13 session consolidation bulls and bears battled for control with several pin bars formed and rejected. However, notice how sellers could not reach 133.70 support and also the 10 and 20 moving average played a perfect dynamic support role until Mondays breakout from 135.344. Wednesday retested 135.344 and formed a bullish engulfing candle, Thursday formed a bullish pin bar and most significantly buyers closed the week above 135.344.
Given all these factors I believe the channel top around 144.405 is a realistic target in coming days or weeks. Resistance on the way up include 137.327, 141.014 and the final target 144.405
Alternatively a close below 135.344 will put me in a wait and see mode again while a further close below 133.703 support zone (channel support and horizontal support) will negate this ascending channel.
GBPJPY daily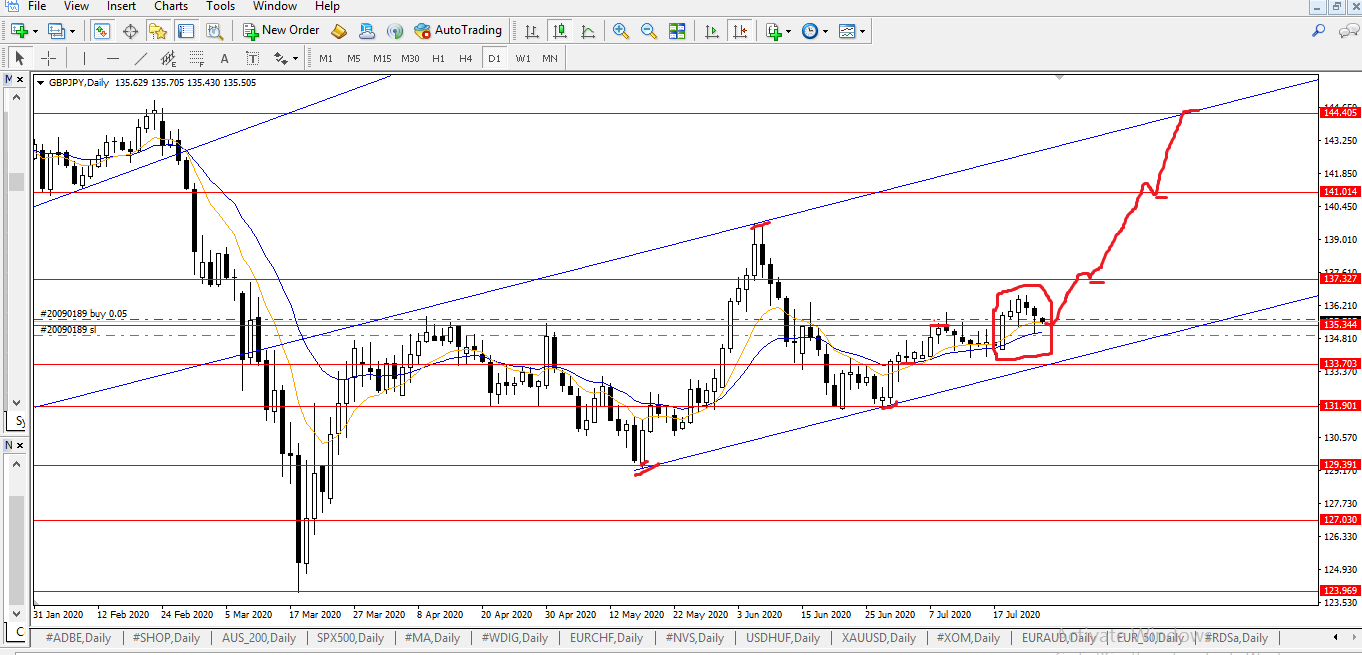 Written by:
Chijioke Maduakor