On Friday, the EU finally agreed to cap the price of Russian seaborne crude at $60 per barrel, which had been proposed by the US and backed by the Group of Seven in September. The step paves the way for official approval of the measure over the weekend.
Have you read? ALERT: Website calling for applications for startup funding is FAKE – FG
The spokesman for the Russian Government, Dmitry Peskov said on Saturday that Moscow is not planning to recognize a Western-imposed price cap on Russian seaborne oil exports.
"Now we are analyzing," Peskov told journalists. "Some preparation was carried out for such a ceiling. We will not accept this ceiling, and we will provide further information on how the work will be organized after the review."
"Starting from this year, Europe will live without Russian Oil," the Kremlin spokesman said.
The G7 price cap will allow non-EU countries to continue importing seaborne Russian crude oil, but it will prohibit shipping, insurance and re-insurance companies from handling cargoes of Russian crude around the globe, unless it is sold for less than $60. That could complicate the shipment of Russian crude priced above the cap, even to countries which are not part of the agreement.
Russian Urals crude traded at around $67 a barrel on Friday.
Similar restrictions, including a price cap for other petroleum products, are slated to be introduced in February.
Russia has said on multiple occasions that it will not sell oil to nations that take part in the scheme, warning that the cap will wreak havoc in energy markets and push commodity prices even higher.
In far away United States of America, the architects of the Price Cap, the Treasury Secretary Janet Yellen said the cap will particularly benefit low- and medium-income countries that have borne the brunt of high energy and food prices.
"With Russia's economy already contracting and its budget increasingly stretched thin, the price cap will immediately cut into (President Vladimir) Putin's most important source of revenue," Yellen said in a statement.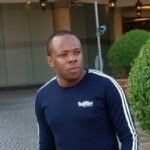 Nnamdi Maduakor is a Writer, Investor and Entrepreneur