Ellah Lakes Plc (NSE ticker – ELLAHLAKES), a palm-oil producer (formerly into fishing business) based in Edo state is meeting investors to raise $40 million for expansion purposes.
Palm oil producers in Nigeria have seen increasing demands in palm oil following government restrictions on imports in the country.
FG in its bid to encourage local oil palm production imposed a 35% tariff on imported palm oil.
Also, Central Bank added Palm kernel/Palm oil products/vegetables oils to a list of items that are ineligible for Foreign Exchange at the CBN's Official Window.
Ellah Lakes' Chief Executive Officer Chuka Mordi in a virtual interview in Lagos, said the company is raising $35 million by offering shares and debt as well as another 2.1 billion naira ($5.4 million) in equity to fund oil palm plantations, seedlings and fertilizer according to Bloomberg report.
Have you read?
He said the company is looking to increase its oil palm from its current 2,300 hectares to 4,000 hectares by end of the year.
Nigeria accounts for about 1% of global output, producing 1 million tons annually and consuming about at 1.4 million tons, according to the United States Department of Agriculture.
Mordi said the raising of the capital started earlier this year through a private placement, but was halted due to the coronavirus pandemic, he added that the company is expecting some foreign investors when international travels resume.
Ellah Lakes will export some output to earn foreign exchange even though local demand is strong, according to the chief executive.
Half of the revenue will come from exports in the next three years "just to manage currency fluctuation," he said. A slump in the price of crude oil cut revenue for the West African nation and hampered the ability of the central bank to meet the dollar requirements of companies for imports.
Financial performance of Ellah Lakes
Ellah Lakes did not record any revenue in the 2018 financial year, It reported only N70,000 revenue in the 2019 financial year and it has reported Zero revenue as at its third quarter of 2020 financial year for the period ended 30 April 2020 with an operating loss of N100.508 million.
The share price of Ellah Lakes flatlined on NSE at N4.26 per share since 2015, however on 18 December 2019, it slightly dropped to N4.25 per share where it has remained ever since.
The last on the Ellah Lakes was 990 units on 26 June 2020.
The last seven trades are shown below;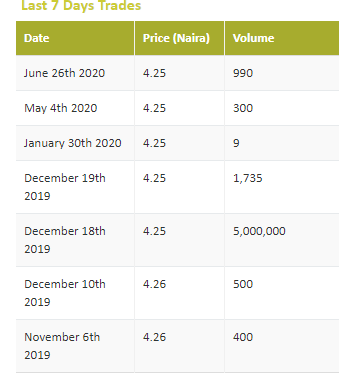 Source: NSE
New Acquisition
Ellah Lakes in a corporate action notification to the Nigerian Stock Exchange dated 19 August 2020 and signed by OAKE Legal, the company secretary, that it has entered into exclusive discussions with a counterparty regarding a potential transaction between the two parties.
The potential transaction relates to the purchase of 100% of the shares of an oil palm processing Company with substantial assets in Delta State.
Ellah Lakes however did not specify the name of the company it is acquiring.
About Ellah Lakes
Ellah Lakes Plc is a public limited company incorporated on 22 August 1980 with Corporate Affairs Commission as a private liability. It was converted to a public limited company on 16 June 1992 according to the company report.
It is listed on the Main Board of NSE under the Agriculture sector and Fishing/Hunting/Trapping sub-sector.
The company's registered address is No 12,Ihama Road,G.R.A Benin-City, Edo State, Nigeria.
Written by;
Ifunanya Ikueze