With the presidential election kicking off across the the country, knowing the proper voting procedure will help you to be well prepared, ensure that your vote will be valid and avoid additional stress on the day of election.
Key dates:
Presidential and National assembly election: Saturday, 25th February 2023
Governorship and State Houses of Assembly election: Saturday, 11th March 2023.
Note that you can only vote in the polling unit where your name is enlisted in the Register of Voters. Hence, ensure that you go to the right polling unit.
Voting time: 8:30am to 2:30pm. However, voters on the queue on or before 2:30pm will be allowed to vote.
Read also: ELECTION: How to check your polling unit, code online
Who is eligible to vote? To vote, you must be:
A Nigerian, 18 years and above
A registered voter
In possession of a Permanent Voter's Card (PVC)
Appear in person at the polling unit
Do I need my PVC to be able to Vote?
INEC said, "YES! Only those with their PVC and that are authenticated using the BVAS device (fingerprint or facial recognition) shall be allowed to vote. NO PVC, NO VOTING!"
Here is the voting procedure as released by the Independent National Electoral Commission, (INEC):
Accreditation
Bimodal Voter Accreditation System (BVAS) shall be used to verify you (voter) as the valid owner of the PVC of the you presented. Either fingerprints or face will be used for the verification.
After a successful verification, a poll official will check for your name in the Register of Voters and tick it.
Indelible ink will be applied on the cuticle of your finger.
 A stamped, signed and dated ballot paper will be issued to you.
If the BVAS fails to recognise your fingerprints as well as facial photograph, you will not be allowed to vote.
Voting
You will go to the voting cubicle to mark your choice on the ballot paper in secret.
Ensure the ink is inside the box next to your choice and does not smear other parts of the ballot paper
to avoid your vote being rejected.
The ballot paper should be folded vertically.
You are not allowed to take photograph of the ballot paper when in the voting cubicle.
You will drop the marked ballot paper into the ballot box in full view of all present.
After casting your vote, you are free to remain 300 metres from the polling area to witness sorting, counting and announcement of result, provided you are orderly and do not disrupt the process.
Collation and Announcement of Results
Results shall be collated at various levels depending on the type of election, after which it is announced by INEC. In order to enhance transparency, INEC has provided an online results viewing portal called IReV (www.inecelectionsresults.ng) where you can view results of all polling units in real time before they are declared at the end of the election by INEC.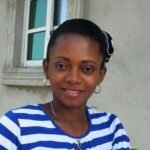 Ifunanya Ikueze is an Engineer, Safety Professional, Writer, Investor, Entrepreneur and Educator.