Domestic violence against Husbands at home is rising in Lagos State according to information made available by the State Government.
The Government has expressed concern over the surge in violence against men in the State.
Also read; Top jobs for German work visa
The trend was disclosed by Mrs. Titilola Vivour-Adeniyi, the Executive Secretary of the Lagos Domestic and Sexual Violence Agency (DSVA) in the agency's quarterly report.
"We are deeply concerned about the rise in domestic violence against men," Vivour-Adeniyi stated. "This is a serious issue that needs to be addressed urgently."
Business Day reported that between September 2022 nd July 2023, 340 men reported experiencing domestic violence perpetrated by their wives. This represents a significant increase from the 281 cases reported in 2022.
The rise in number of cases is attributed to several factors, which includes; increased awareness of domestic violence, improved reporting mechanisms, and a growing willingness among men to come forward.
At the event commemorating the 2023 International Men's Day Mrs. Vivour-Adeniyi  informed men that the State Government had put in place to proactively address the issues of abuse.
She stated that the International Men's Day was another opportunity to create awareness about sexual and gender-based violence, whilst taking into cognizance the fact that men can also be victims and survivors.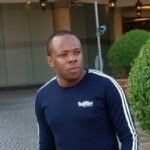 Nnamdi Maduakor is a Writer, Investor and Entrepreneur