On the 25th of May 2020, NCDC confirmed 229 new cases and 7 deaths in Nigeria. The new cases were recorded as follows; Lagos-90, Katsina-27, Imo-26, Kano-23, FCT-14, Plateau-12, Ogun-9, Delta-7, Borno-5, Rivers-5, Oyo-4, Gombe-3, Osun-2, Anambra-1, and Bayelsa-1
8,068 cases have been confirmed in Nigeria, 2,311 cases have been discharged and 233 deaths recorded in 34 states and the Federal Capital Territory as at 25 May 2020.
Total of 45,683 samples have been tested for Covid-19 in Nigeria since the beginning of the outbreak according to NCDC.
Ten states with largest number of confirmed Covid-19 cases are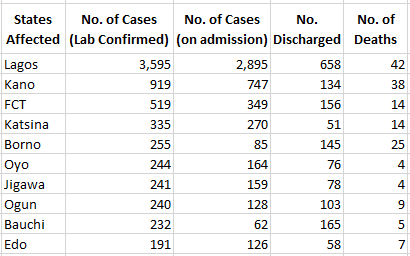 In Anambra state, a patient brought to Nnamdi Azikiwe University Teaching Hospital, NAUTH located in Nnewi, has tested positive for Covid-19. This was confirmed by Chief Medical Director of NAUTH  Prof. Anthony Igwegbe on Sunday.
The patient, a business man based in Onitsha is the first case to be confirmed in Nnewi.
According to Prof. Igwebe, the patient was brought to the hospital last Wednesday and on suspicion, his specimen was taken for a test which turned out to be positive as declared by the Nigeria Center for Disease Control, (NCDC) on Saturday.
Read also; U.S Impose Travel Restrictions on Brazil; 313 new cases Confirmed in Nigeria
He said "the patient was quickly moved from our Isolation ward to the Anambra State treatment centre for care and treatment"
Anambra state has recorded 10 cases of Covid-19 with 1 recovery and zero death.
In river state, Nadeem Promise Gororobari, the owner of Prodest Hotel Eleme, which was demolished for allegedly breaking the extreme lockdown rules imposed by the state governor, has accused the state government of infecting his manager, with COVID-19 in a statement on Sunday.
This comes after the Rivers information commissioner, Paulinus Nsirim said that Bariledum Azoroh, the hotel manager, was among the 27 people who recently tested positive for the virus in the state.
"The Rivers State Government must be held liable for infecting my manager who is in their custody for over 15 days with COVID-19. He was a very healthy person before his arrest…" he said.
River State has confirmed 121 cases of covid-19 with 32 recoveries and 9 deaths.
Nigeria Minister of Foreign Affairs announced the repatriation of 69 Nigerians from Lebannon via his twitter account late on Sunday.
"With the financial and logistic support of the Lebanese Government and Lebanese community in Nigeria, 50 trafficked Nigerian girls and 19 stranded Nigerians were successfully evacuated from Lebanon and arrived Nigeria today"
Read also; Nigeria's Real GDP grew by 1.87% in Q1 2020
In similar development, Ethiopian Airline has said in a statement on Sunday by General Manager Ethiopian Airlines in Nigeria, Firihewot Mekonnen, that it has no existing contract to evacuate Nigerians from Canada. The Airline had on 21 May repatriated 187 Canadians from Nigeria.
"Ethiopian Airlines is not yet contracted to evacuate Nigerians from Canada. That is the responsibility of the Nigerian Government and its agencies to choose partners for such evacuation, " the statement said.
There has been controversy over the evacuation of Nigerians from Canada. They were scheduled to be evacuated by Air Peace. However, Canadian government seems to have preference for Ethiopian Airways for the evacuation.
The Canadian government through its Embassy and Nigerian foreign mission in Canada has persisted that Air Peace has not been granted landing rights.
The Chairman House of Representatives Committee on Aviation, Nnolim Nnaji has warned that any attempt to use foreign airline to evacuate stranded Nigerians from Canada would not be condoned by the House.
He also noted that, Air Peace is charging $1,134 per passenger as against the sum of $2,500 charged by the Ethiopian Airline.
Total of 112,290 cases have been confirmed in Africa, with 44,920 recoveries and 3,359 deaths recorded. Nigeria is the fourth country in Africa with largest number of confirmed cases behind South Africa, Egypt and Algeria.
The World Health Organization on Monday announced the suspension of its trial of Hydroxychloroquine as possible treatment for Covid-19, while the safety data is reviewed after research suggested that it could cause serious health problem.
This announcement was made is series of tweets by the WHO Director General Tedros Adhanom Ghebreyesus following a media briefing on Monday.
"The Executive Group has implemented a temporary pause of the hydroxychloroquine arm within the Solidarity Trial while the data is reviewed by the Data Safety Monitoring Board"
"Over 400 hospitals in 35 countries are actively recruiting patients & nearly 3500 patients have been enrolled from 17 countries"
Read more; Trump says He is Taking Hydroxychloroquine
"On Friday, The Lancet published an observational study on hydroxycholoroquine & chloraquine & its effects on COVID19 patients that have been hospitalised"-
"The authors reported that among COVID19 patients receiving the drug, when used alone or with a macrolide, they estimated a higher mortality rate"
"The Executive Group has implemented a temporary pause of the hydroxychloroquine arm within the Solidarity Trial while the data is reviewed by the Data Safety Monitoring Board"-@DrTedros #COVID19

— World Health Organization (WHO) (@WHO) May 25, 2020
"The Executive Group of the Solidarity Trial, representing 10 of the participating countries, met on Saturday and has agreed to review a comprehensive analysis and critical appraisal of all evidence available globally"-
"WHO will provide further updates as we know more" Tedros said.
In Madagascar, the government has said it will send troops and doctors to the eastern city of Toamasina after reports of deaths with un-established cause.
Two people had died in the city from Covid-19. However, it has not been ascertained if the recent scores of death were related to Covid-19.
 Professor Hanta Marie Danielle Vololontiana, spokesperson for the government's virus taskforce, said in a national broadcast on Sunday that "doctors must carry out thorough examinations to see if these deaths are caused by another illness or if they are really due to severe acute respiratory problems which is the critical form of COVID-19,"
Madagascar has recorded 542 cases of Covid-19,147 recoveries and 2 deaths.
In Spain, the health ministry has revised Coronavirus death toll downwards by almost 2,000 to 26,834 on Monday after checking regional data.
The ministry also revised the total number of confirmed cases in the country downwards by 372 to 235,400 compared to the figure on Sunday.
Health emergency coordinator Fernando Simon,  said in a news briefing, "we are correcting the series, validating data, eliminating duplicate cases, eliminating cases that were notified as probable coronavirus, suspected cases that were not confirmed," he told a news briefing
The number of deaths and new confirmed cases have been slowing in Spain for the past weeks.  Spain is the fifth country with largest number of confirmed Covid-19 cases. It has recorded 235,400 cases, with 150,370 recoveries and 26,834 deaths.
In Japan, the Prime Minister, Shinzō Abe, has lifted the country's state of emergency declared on 7 April, after a clear fall in new coronavirus cases in Tokyo and other hard-hit regions that were still subject to the measure.
Read further; CFDs Review May 18, 2020 to May 22, 2020: Forex, Indices and Commodities
But he urged people to remain vigilant and adopt a "new lifestyle" based around avoidance of the  – confined and crowded spaces, and close human contact – to prevent a second wave of infections.
"Even after the lifting of the state of emergency, we are going to have to live with the coronavirus around us," he said at a televised press conference. "If we lower our guard, the infection will spread rapidly. This is the most scary aspect of this virus. So we need to remain vigilant while at the same time reviving the economy" said the Prime Minister.
Japan has recorded 16,581 cases of Covid-19, with 13,612 recoveries and 830 deaths.
Globally there are 5,493,483 confirmed cases of Covid-19, out of which 2,231,454 have recovered and 346,209 deaths recorded. according to John Hopkins Coronavirus Resource Center.
Written by
Ifunanya Ikueze