503 new cases of Covid-19 with 15 new deaths were reported in Nigeria on Tuesday by the Nigeria Center for Disease Control (NCDC). Total confirmed cases in Nigeria stood at 29,879 with 12,108 recoveries and 669 deaths as at 7 July 2020.
The cases were reported as follows; Lagos-153, Ondo-76, Edo-54, FCT-41, Enugu-37, Rivers-30, Benue-24, Osun-20, Kaduna-15, Kwara-13, Abia-9, Borno-8, Plateau-6, Taraba-5, Ogun-3, Kano-3, Kebbi-2, Nasarawa-2. Bayelsa-1 and Gombe-1.
The number of tests done in Nigeria is still very little relative to the population. Total of 152,952 samples have been tested in the country since the outbreak.
Top ten states with the largest number of confirmed Covid-19 cases are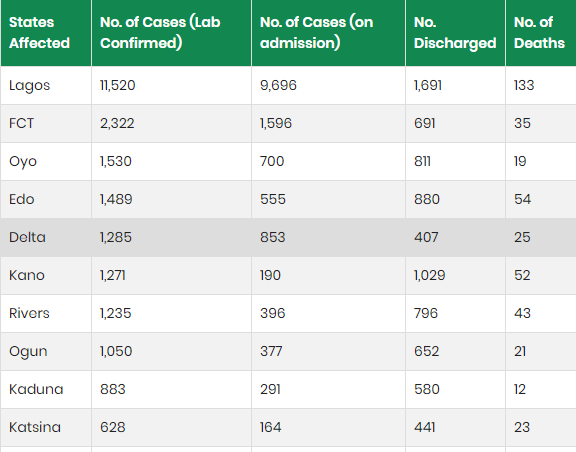 Source; NCDC
In China, China's Sinovac Biotech plans to start large-scale human trials of a potential coronavirus vaccine in Brazil this month. Brazilian health regulator Anvisa on Friday approved the clinical trials.
Sinovac will test its Covid-19 vaccine on nearly 9,000 Health care workers in Brazil according to Chinese news media, Caixin Global.
The study which will be carried out across 12 sites in Brazil is led by Instituto Butantan, a research center funded by the state of Sao Paulo.
The agreement with Sinovac includes not only trials, but also the transference of technology to produce the potential vaccine locally in Brazil.
"The vaccine known as Corona Vac went into development on Jan. 28, and early trials on healthy people in China have shown no "serious" adverse responses, with nine in 10 subjects producing detectable levels of coronavirus-fighting antibodies after two jabs, the company said.
In April, Caixin Global, reported that "Vaccine developers in China face a problem as the number of Covid-19 cases declines. Researchers in China are facing difficulties pushing forward studies on potential Covid-19 vaccines because of a lack of qualified patients to participate in trials"
Sinovac would be the second vaccine developer to go into phase 3 trial. The vaccine already in phase 3 trial according to WHO is being developed by University of Oxford/AstraZeneca,
The vaccine being developed Moderna/NIAID is at phase 2 and is hoping to go into phase 3 soon.  Another vaccine in phase 2 trial is being developed by CanSino Biological Inc./Beijing Institute of Biotechnology.
Beijing has reported no additional confirmed Covid-19 cases on Tuesday, for the first time since an outbreak emerged at a wholesale food market in the suburbs of the Chinese capital on June 11
Brazil has the second highest number of confirmed Covid-19 cases and deaths in the world behind the U. S. However it has recorded the largest number of recovery from the virus.
Brazil has confirmed 1,668,589 cases with 1,0992,281 recoveries and 66,741 deaths. On Tuesday Brazil recorded 20,229 cases and 620 deaths.
Brazil President Jair Bolsonaro has said he tested positive for Covid-19
In the U.S, President Donald Trump has formally moved to withdraw the US from the World Health Organization (WHO), keeping true to his words.
President Trump has formally notified the United Nations and Congress of his intentions, although the process could take at least a year.
Spokesman for the UN secretary-general Stéphane Dujarric, confirmed the US had notified it of its withdrawal, effective as of 6 July 2021.
The President had in a press conference in the Rose Garden on Friday 29 May, announced that the United States will terminate its relationship with the World Heath Organization (WHO). He said that the funds the U.S gives to the organization will be directed to other worldwide deserving and urging global public health needs.
President has always been critical of the WHO on its handling of Covid-19 pandemic which has killed over 100,000 Americans and infected over 1.7 million people in the United States.
He said that the organization has refused to make the reforms the US had requested and that WHO is in total control of China
Read also; WHO quits Hydroxychloroquine trial just after a new study found it to be helpful 
President Trump had on May 18 wrote a letter to the Director General of WHO threatening that the US will cease relation with the organization if it does not make necessary reforms.
The U.S still has the highest number of confirmed Covid-19 cases and deaths in the world. It has recorded 2,994,776 cases with 936,476 recoveries and 131,599 deaths.
On Saturday the U.S recorded 44,953 cases and 325 deaths according to John Hopkins.
Globally, 11,797,213 persons have contracted the virus, out of which 6,415,379 individuals have recovered with 543,595 deaths recorded.
Written by;
Ifunanya Ikueze