A recent publication by Punch Nigeria on the warning the Independent National Electoral Commission gave to political parties against the use of masquerades, public facilities and religious centres for campaigns has elicited varied opinions on social media.
In the article, The commission asked political parties to align strictly with the provisions of the Electoral Act to avoid sanctions as stipulated by the Act.
Read also; For a better Naija, OBIdients defy the rain to March for Peter Obi in Port Harcourt
Campaigns for the presidential and National Assembly will start on September 28, exactly a month today.
The discussions monitored on social media by Investogist shows the majority of commentators disagreed with INEC's position, and they are right and wrong at the same time in their positions on the issue.
We have always debated that Nigeria is a country of multiple laws, but with limited implementations. For this reason, anytime an agency of Government pushes for the implementation of any of the laws, there is always the tendency for it to be seen as being targeted at an individual or group of individuals for political reasons.
Yes, those that see it in such light may not be entirely wrong.
INEC would therefore do well to ensure that the electoral laws are applied uniformly across all political parties and their respective candidates, as well as applying same laws uniformly across the country and in equal measure to all voters.
On the issue of campaigns, which is the crust of the matter this morning, here is what the laws says:
Section 92 Nigeria Electoral Act 2022
Prohibition of certain conduct at political campaigns
(1) A political campaign or slogan shall not be tainted with abusive language directly or indirectly likely to injure religious, ethnic, tribal or sectional feelings.
(2) Abusive, intemperate, slanderous or base language or insinuations or innuendoes
designed or likely to provoke violent reaction or emotions shall not be employed or used in political campaigns.
(3) Places designated for religious worship, police stations, and public offices shall not be used –
(a) for political campaigns, rallies and processions; or
(b) to promote, propagate or attack political parties, candidates or their programmes or ideologies.
(4) Masquerades shall not be employed or used by any political party, aspirant or candidate during political campaigns or for any other political purpose.
(5) A political party, aspirant or candidate of a political party shall not retain, organise, train or equip any person or group of persons for the purpose of enabling them to be employed for the use or display of physical force or coercion in promoting any political objective or interest, or in such manner as to arouse reasonable apprehension that they are organised, trained or equipped for that purpose.
(6) A political party, aspirant or candidate shall not keep or use armed private security organisation, vanguard or any other group or individual by whatever name called for the purpose of providing security, assisting or aiding the political party or candidate in whatever manner during campaigns, rallies, processions or elections.
(7) A political party, aspirant or candidate that contravenes any of the provisions of this section commits an offence and is liable on conviction –
(a) in the case of an aspirant or candidate, to a maximum fine of N 1,000,000 or imprisonment for a term of 12 months; and
(b) in the case of a political party, to a fine of N2,000,000 in the first instance, and N 1,000,000 for any subsequent offence.
(8) A person or group of persons who aids or abets a political party, an aspirant or a candidate in contravening the provisions of subsection (5), commits an offence and is liable on conviction to a fine of N500,000 or imprisonment for a term of three years or both.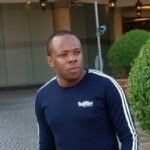 Nnamdi Maduakor is a Writer, Investor and Entrepreneur