On Friday, China decided to cut diplomatic ties with Washington in a number of military and civilian areas, a retaliatory move over the visit by US House Speaker Nancy Pelosi to Taiwan. According to a Politico seen by Investogist, calls from the US's defence ministry is being ignored by top Chinese military officials, cited three people with knowledge of the calls.
Beijing allegedly rejected several calls from Defense Secretary Lloyd Austin and Chairman of the Joint Chiefs of Staff General Mark Milley in recent days, according to "three people with knowledge of the attempts."
Milley's last confirmed contact with China's Chief of the Joint Staff, General Li Zuocheng, came on July 7, while Austin met with the Chinese defense minister, General Wei Fenghe, in person in June.
Also read; U.S Speaker Pelosi departs Taiwan amid Chinese threats, military drills
Beijing's ghosting of Defense Secretary Lloyd Austin and Joint Chiefs Chair Gen. Mark Milley comes as China continues launching missiles and positioning warships and aircraft in unprecedented military drills around Taiwan.
Officials and experts say China's silence is a shortsighted and reckless move that increases the risk of escalation in an already tense situation.
"If the [Chinese military]is operating more aggressively, and in closer proximity to U.S. forces with greater frequency, we'd need these mechanisms even more to promote a safe operating environment," said Randy Schriver, who served as the top Pentagon official for Asia policy in the Trump administration.
It is the norm for U.S. military leaders to maintain open lines of communication even with potential adversaries such as China to prevent accidents and other miscalculations that could turn into a full-blown conflict.
China had also suspended consultations on maritime security, cooperation on the repatriation of illegal migrants, legal assistance on criminal matters, fighting against transnational crime and drug trafficking, as well as talks on climate change, it said in a statement.
While not commenting on the reported break in top-level military communications, the White House said China's recent moves increase the "risk of miscalculation and misperception," even as National Security Council spokesperson John Kirby insisted it "does not completely eliminate the opportunities for senior members of our military to talk." 
"You have this much military hardware operating in confined areas, it's good, especially now, to have those lines of communication open," Kirby said on Friday.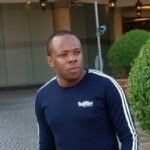 Nnamdi Maduakor is a Writer, Investor and Entrepreneur