On Monday two major stock splits took effect. Shares of Apple rose after undergoing a 4-for-1 stock split, while Tesla also climbed after its 5-for-1 split.
Stock splits at Apple and electric-car maker Tesla may spur further gains for both companies, by making their shares more affordable temporarily to small investors.
On Friday Apple closed at $499.23 per share while Tesla closed at $2,213.40 per share.
Following the splits on Monday, the stock of the iPhone-maker fell to $124.81, while Tesla's stock dropped to $442.68. 
At the time of this report, Apple has risen to $128.71 while Tesla is trading at $470.91 per share.
Apple shares had previously risen 70% this year while Tesla's jumped 435%.
This is the first split in Tesla's 10-year history as a publicly-traded company, whereas Apple shares have split four times before according to Fox Business.
"It makes absolutely no economic sense that a split should cause a stock to rally, but it almost always does," Matt Maley, Boston-based chief market strategist at Miller Tabak & Co., told FOX Business. "The general feeling is smaller investors can buy the stock."
Have you read?
While a stock split doesn't make a company any "cheaper" overall, since its market capitalization remains the same, it does give retail investors who couldn't afford shares at previous levels a chance to buy at lower prices.
The discounts don't last long, though: History shows that big-name brands typically see their share price rally soon after a split.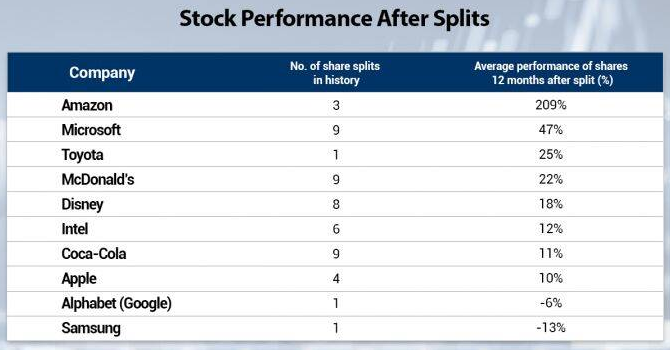 Source- Fox Business
Stock split or not, mega-cap tech stocks look like they are going higher, according to Wedbush Securities analyst Dan Ives.
"Tech stocks are at all-time highs and the strong are getting stronger," Ives told FOX Business, adding that behemoths such as Facebook, Apple, Amazon, Google and Netflix may rally as much as 25% over the next six to nine months.
What is a stock split?
A stock split occurs when a company increases the total number of outstanding shares for the price of the same share, effectively breaking one share into several smaller whole shares. For example, a company could do a 4-for-1 stock split, where one $400 share would then become four $100 shares, and existing investors would get three extra shares for each one they own according to Fortune.
In general, stock splits are done when a company's share price has gotten high, and the stock is then split to lower the price of each individual share and make the shares more accessible and appealing to individual or retail investors who might not have been able to afford the stock before.
Indeed, while the stock will become less expensive to buy, none of the valuation metrics or price-to-earnings ratios have changed, and the market cap of the company stays exactly the same. The dividend yield overall won't change, but the dividend per share may be reduced by the same divisor as the split.
Written by;
Ifunanya Ikueze