As covid-19 pandemic continues to hamper economic activities in Nigeria and around the world, the Central Bank of Nigeria (CBN) in its latest Business Expectations Survey report seen by Investogist, said that "all sectors expressed pessimism on own operations in the review month."
The report also showed that insufficient power supply is the major constraint businesses are facing in Nigeria.
The survey sampled the opinions of 1,050 businesses nationwide across agric/services, manufacturing, wholesale/retail trade, and construction sectors with a 96% response rate.
The firms that took part in the survey were made up of small, medium and large corporations covering both import oriented and export-oriented businesses.
According to the report by CBN, the overall confidence index is minus 24.3 index points, which implies "respondents' pessimism on the overall macro economy in the month of June." Although there is an optimistic outlook for the months ahead; July (31.8 index points), August (47.4 index points), December (67.8 index points).
"Further analysis showed that all classes of businesses; neither import nor export-oriented (-16.0 points), both import- export-oriented (-4.7 points), import-oriented (-3.4 point), and export-oriented (-0.3 point), drove the negative business outlook in June 2020."
Read also;  IMF forecasts deeper global recession in 2020
Pessimistic outlook dominated all the sectors on own operations in June 2020. Respondents from the agric/services sector had -14.2 points, manufacturing sector had -6.0 points, construction with -1.0 points while the wholesale/retail trade sector had -0.6 points.
Business Constraints
Insufficient power supply was ranked number one as the major constraint to businesses in Nigeria at 70.3 index points, followed by competition at 63.1 points and high interest rate at 62.5 points.
Other constraints include, financial problems, unfavourable economic climate, unclear economic laws, insufficient demand, unfavourable political climate, access to credit and lack of equipment as major factors constraining business activity.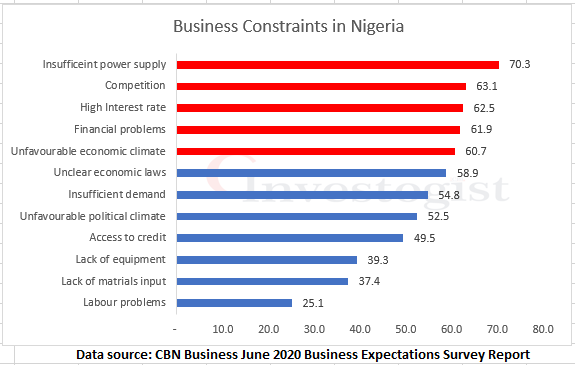 Respondents of the survey expects the depreciation of the naira in June, although an appreciation in the value of the naira is expected in the next 1 to 6 months.
Businesses expect average inflation rate in the next six months and the next twelve months to stand at 12.45 and 12.83 percent according to the report.
Read further; Global Stock Markets and Oil Prices Fall as Nigerian Bourse shed N49.5 Billion
Businesses who responded to the survey expressed dissatisfaction with the management of inflation by the Government, with a negative net satisfaction index of -16.3 in June 2020 according to the report.
In terms of Economic growth rate expectation, the CBN report shows that businesses anticipate improvements in economic conditions as the index on economic growth rate in the short run stood at 1.5 and 21.0 points for the current month and next month.
Written by
Ifunanya Ikueze