According to Central Bank of Nigeria (CBN) Purchasing Managers Index (PMI) report for the month of June 2020,  the PMI for both manufacturing and non-manufacturing sectors contracted in June.
The June 2020 PMI survey was conducted by the Statistics Department of the Central Bank of Nigeria(CBN), in the 36 states in Nigeria and the Federal Capital Territory (FCT).
A composite Purchasing Managers Index (PMI) above 50 points indicates that the manufacturing/non-manufacturing economy is generally expanding. 50 points indicates no change and below 50 points indicates that it is generally contracting.
The Manufacturing sector contracted for the second consecutive time this year. The Manufacturing PMI declined to 41.1 in June.
The production level index for the manufacturing sector declined in June 2020 for the second consecutive month to 36.6 points. Three subsectors recorded increased production level, 2 remained unchanged, while 9 subsectors recorded declines in production level in June 2020.
In June 2020, supplier delivery time grew, while production level, new orders, employment level and raw materials inventories index declined
There was a further decline in new orders index to 36.4 from the level recorded in May 2020, while the employment level index in June 2020 stood at 38.8 points, indicating decline in employment level index for the third month.
At 41.0 points, the raw materials inventories index is contracting at a slower rate when compared to its level in May 2020.
Read also; All sectors expressed pessimism on own operations in June – CBN Report
In the Manufacturing sector, new exports orders declined at the fastest rate 25.9 down from 36.3 recorded in May. New Export orders index has been on the decline for more than five years, 63 months to be exact.
On the other hand input prices index has been growing in the past 71 months. In June it grew by 5.8 points from 61.4 recorded in May to 67.2 in June 2020.
Details of Overall Manufacturing PMI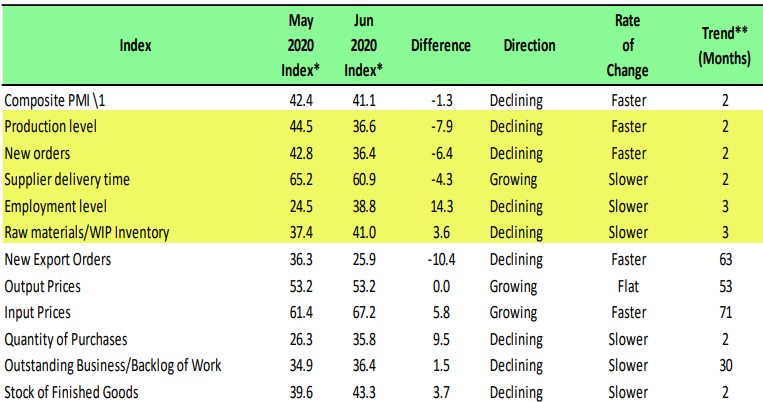 Souce: CBN
Out of the 14 subsectors surveyed under Manufacturing sector, 5 subsectors reported growth (above 50% threshold) in the review month, with electrical equipment reporting the largest growth of 10.7 points to 61.5 in June from 60.8 in May. It is followed by cement (56.9); petroleum & coal products (56.7); transportation equipment (55.8) and paper products (50.8).
However, the remaining 9 subsectors reported declines. The highest decline was reported in printing & related support activities at 27.0 in June down from 36.3 in May.
It is followed by textile, apparel, leather & footwear (31.2), primary metal (33.0); plastics & rubber products (33.5); nonmetallic mineral products(37.1); fabricated metal products (41.3); food, beverage & tobacco products (41.4); chemical & pharmaceutical products (42.4) and furniture & related products (43.1).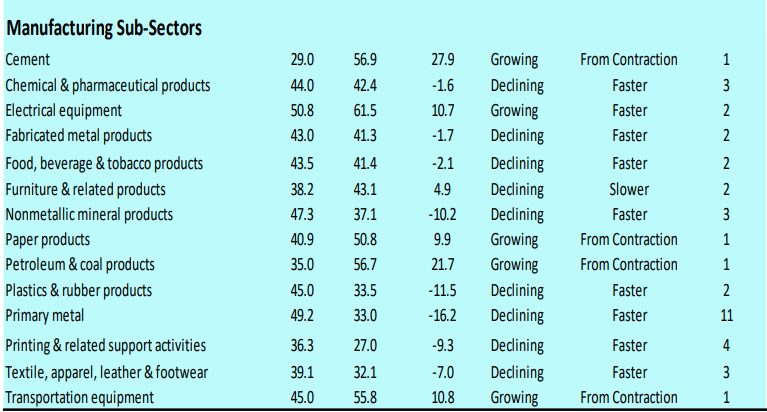 The composite PMI for the non-manufacturing sector stood at 35.7 points in June 2020, indicating contraction for the third consecutive month, but showing gradual recovery in non-manufacturing activities when compared to the index in May 2020.
 All of the 17 subsectors surveyed recorded declines with electricity, gas, steam & air conditioning supply having the least decline at (42.7).
It is followed by arts, entertainment & recreation (41.6), agriculture(40.7), water supply, sewage & waste management (38.6); finance & insurance (37.6);
The table below shows the index figures for all the 17 subsectors;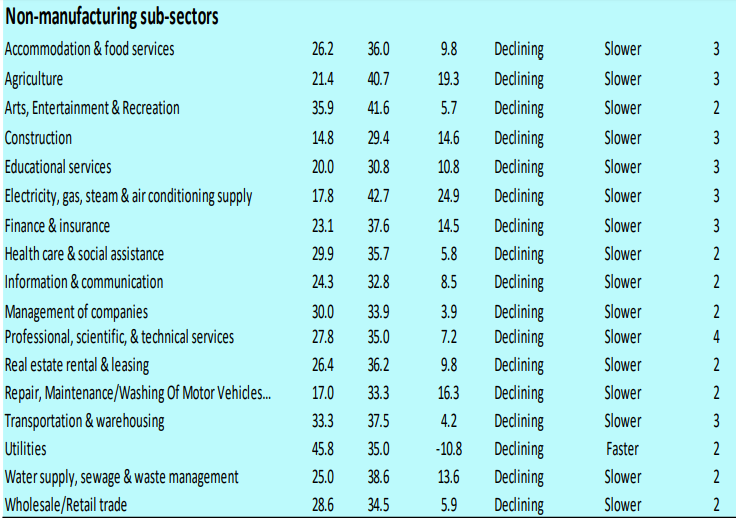 Data source: CBN
The business activity index declined for the second time to 34.3 points, indicating contraction in non-manufacturing business activity in June 2020 while new orders index declined for the third consecutive time At 32.5 points, new orders index declined for the third time in June 2020. Employment level also declined to 37.4 in June.
All the 17 surveyed subsectors, recorded declines in business activity, new orders and employment level index. during the review period.
Written by;
Ifunanya Ikueze