Aero Contractors at a news conference in Lagos on Thursday stated that its planes will take to the skies from December 5, 2022, vowing that past failures will not be repeated.
Nigeria's oldest airline had on July 20, 2022 announced an indefinite suspension of passenger flight operations, stating at the time that most of its aircraft were undergoing maintenance.
Also read; Seplat Energy Plc is actively recruiting General Manager, Legal
Ado Sanusi, the company's chief executive officer who spoke at the news conference explained that the suspension earlier in the year was to enable the company reposition and restructure.
Sanusi went on to say that having satisfied regulatory requirements, the Nigeria Civil Aviation Authorities (NCAA) gave approval for the airline to resume scheduled flights.
"The airline will be operating with boeing 737 and dash 8 (Q-400) servicing ten destinations. These destinations include; Warri, Lagos, Port Harcourt, Abuja, Benin, Yola, Sokoto, Kano, Asaba and Calabar," Sanusi said.
To sustain operations and avoid future sanctions by the NCAA, Sanusi said the airline had conducted a study on previous events that led to its suspension.
He stated that it took longer for services to recommence because of the efforts expanded to study previous events that led to its previous suspensions.
"We believe and we are confident that the mistakes of the past will not repeat itself. We have looked at what actually caused the failures of the past and we are very determined not to repeat the same mistakes or to expect the same results," Sanusi said.
The CEO noted that the airline has employed Charles Grant as its new Chief Finance Officer (CFO) and will be run by a new management.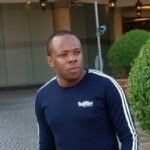 Nnamdi Maduakor is a Writer, Investor and Entrepreneur