On Wednesday, shortly after the Ukrainian President Zelensky addressed the U.S. Congress, an additional US$800 million aid for Ukraine was announced.
The additional $800 million comes on top of the $200 million in funding that was announced Saturday.
Announcing the aid, President Biden thanked the U.S. Congress for appropriating the funds, stating that the new package on its own is going to provide unprecedented assistance to Ukraine.
The new package of aids includes the following according to Fox News;
800 Stinger anti-aircraft systems
2,000 Javelins
1,000 light anti-armor weapons
6,000 AT-4 anti-amor systems
100 unmanned drones
100 grenade launchers
5,000 riffles
1,000 pistols
400 machine guns
400 shotguns
more than 20 million rounds of small arms ammunition and grenade launcher and mortar rounds
25,000 sets of body armor
25,000 helmets
These equipment according to the President will be transferred directly from the U.S. Department of Defense to the Ukrainian military.
Biden explained that the American people are supporting the people of Ukraine in the face of Putin's immoral, unethical attacks on civilian populations.
"This could be a long and difficult battle," the President warned.

"We are united in our abhorrence of Putin's depraved onslaught. We're going to continue to have their backs as they fight for their freedom, their democracy, very survival," the president said. "We're going to give Ukraine the arms to fight, to defend themselves through all the difficult days ahead."
The United States have also been mobilizing humanitarian relief to support people within Ukraine and those who've been forced to flee Ukraine.
President Biden noted that in the last few weeks, the U.S. has provided $300 million of humanitarian assistance to the people in Ukraine and in neighboring countries.
The president vowed that the U.S., in coordination with allies and partners, "will keep up the pressure on Putin's crumbling economy, isolating him on the global stage."
"That's our goal," Biden said. "Make Putin pay the price, weaken his position while strengthening the hand of the Ukrainians on the battlefield, at the negotiating table, together with our allies and partners."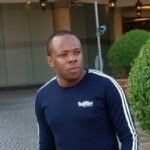 Nnamdi Maduakor is a Writer, Investor and Entrepreneur