The Central Bank of Nigeria has clarified that it did not ban Deposit Money Banks (DMBs) from paying customers making over the counter withdrawals with the new naira notes.
Arise TV reported that the Director of Corporate Communication, CBN, Mr. Osita Nwanisobi made the clarifications while speaking with THISDAY at the weekend.
Also read; Cash withdrawals from public Accounts to be treated as Money Laundering Offence – NFIU
Investogist on Saturday reported that the CBN directed banks to have their Automated Teller Machines (ATM) loaded with only new naira notes to ensure that the currency circulates across the nation ahead of the January 31, 2023 deadline when the old notes will no longer be legal tender.
Responding to the directive to the banks to load ATMs with the new notes, Nwasinobi explained that the directive didn't categorically ban over-the-counter transactions but was issued as a persuasion to dispense new notes via ATMs to increase circulation.
He said: "There is what we call moral suasion; we had a meeting with the banks and we all agreed that we can begin to put the new notes in the ATMs so that people would see and boost circulation.

"Yes, you can say it is a directive. We keep reviewing and my worry is by next week when new notes are being paid across the counter people would say they are flaunting. "We had a meeting and we had moral suasion because people are complaining they are not seeing new notes. So, that also doesn't mean that banks cannot pay over the counter.

"The CBN is concerned about claims by Nigerians that they have not come in contact with new notes and we have directed the banks to ensure that they load their ATMs with new notes. This would ensure quick and wider circulation across Nigeria. I never said they shouldn't pay across the counter," he clarified.
The Director also dismissed speculations over the inadequacy of the new notes in banks, stating that adequate plans have been made to heighten the circulation of the new notes.
He went further to say that speculations that the banks did not have enough new notes for circulation were false. The He said that the was enough supply of new notes in line with the intent for the period.
He reiterated that the old notes remain a legal tender until January 31st, and will therefore remain in circulation.
On the deadline, Mr. Nwasinobi stated that January 31 remains sacrosanct, adding that there are no indications that the date would be extended.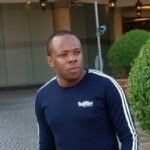 Nnamdi Maduakor is a Writer, Investor and Entrepreneur