The U.S supreme Court had on Friday in a 6-3 majority ruling struck down President Biden's federal student loan forgiveness plan.
Also read; Federal Government to stop funding Professional Bodies, Councils – Full list
The Justices ruled that at least one of the GOP-led siz states that challenged the loan relief program had the proper legal footing, known as standing, to do so.
The supreme court said the president didn't have the authority to instruct his Education secretary to cancel such a large amount of consumer debt without authorization from Congress.
″'Can the Secretary use his powers to abolish $430 billion in student loans, completely canceling loan balances for 20 million borrowers, as a pandemic winds down to its end?'" wrote Chief Justice John Roberts in the majority opinion for Biden v. Nebraska. "We can't believe the answer would be yes."
Chief Justice Roberts further said that  the president's plan would cause harm to Missouri, as it would have reduced profits at the Missouri Higher Education Loan Authority, or MOHELA.
"Under the Secretary's plan, roughly half of all federal borrowers would have their loans completely discharged," Roberts wrote. "MOHELA could no longer service those closed accounts, costing it, by Missouri's estimate, $44 million a year in fees…The plan's harm to MOHELA is also a harm to Missouri."
President Biden responded on Friday, calling the supreme courts ruling a wrong decision and accused Repulicans of hypocrisy.
"They had no problem with billions in pandemic-related loans to businesses — including hundreds of thousands and in some cases millions of dollars for their own businesses. And those loans were forgiven," Biden said. "But when it came to providing relief to millions of hard-working Americans, they did everything in their power to stop it."
CNBC reported that the ruling matched  exert predictions, given the justices' conservative majority.
President Biden had in August 2022,  under pressure from other Democrats, consumer advocates and borrowers to fix a lending system they described as broken and predatory, Biden announced he'd cancel up to $10,000 in federal student debt for most borrowers, and as much as $20,000 for those who'd received a Pell Grant in college, a form of aid for low-income families.
Applications for the Biden administration's forgiveness program had been open for less than a month when a slew of legal challenges forced them to shut it. Biden's plan faced at least six lawsuits from Republican-backed states and conservative groups, most of which accused him of executive overreach.
Two of those legal challenges made it to the Supreme Court: one brought by six GOP-led states — Nebraska, Missouri, Arkansas, Iowa, Kansas and South Carolina — and another backed by the Job Creators Network Foundation, a conservative advocacy organization.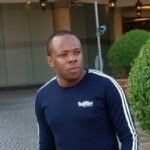 Nnamdi Maduakor is a Writer, Investor and Entrepreneur