In a clear response to China's navy and air drills near its borders, Taiwan has demonstrated the capabilities of its F-16V fighter planes as it vowed to defend itself against any aggressor.
The Taiwan's military showed off the fighter plane to reporters at Hualien air base on the eastern coast of the Island on Wednesday.
Reuters and other media outlets reported that the F-16Vs took off on reconnaissance and training flights, while the ground crew demonstrated how they quickly load weapons, including US-made Harpoon anti-shop missiles onto the Jets.
Also read; Peter Obi visits Femi Kuti, promises issue-based campaign
The Taiwanese Air Faorce said in a statement that, ""In the face of the threat from Chinese communist forces' recent military exercises, we have stayed vigilant while establishing the concept of 'battlefields everywhere and training anytime'… to ensure national security."
Taiwanese Defense Ministry spokesman Sun Li-fang said Chinese threats presented an opportunity for Taipei's forces to sharpen their skills through increased drilling. "The Republic of China's forces are confident, capable and determined to defend the safety of the Republic of China," he said, using a formal name for Taiwan that Beijing has claimed ceased to exist in 1949.
The Hualien base, which has hangers cut out of the side of a mountain, has two pilots on duty at any one time sitting in their flight suits and able to be in the air within six minutes.
The fighters on display were the Lockheed Martin Corp F-16V, Taiwan's most up-to-date combat jet.
Taiwan has been converting 141 F-16A/B jets into the F-16V type, and has additionally ordered 66 new F-16Vs, which have new avionics, weapons and radar systems to better face down the Chinese air force, including its J-20 stealth fighters.
There has been rising tensions between Taiwan and China, and between China and USA after US House Speaker Nancy Pelosi made a controversial visit to Taiwan earlier this month. Beijing has also ramped up military drills in the Taiwan Strait and has said it will reunify with Taiwan, which it considers a breakaway province, by force if necessary.
Since Pelosi's trip to Taipei and a subsequent visit to the island by another US congressional delegation last Sunday, Chinese jets have repeatedly crossed the unofficial media line into Taiwan's air defense identification zone (ADIZ). On Thursday morning local time, two Chinese H-6 bombers, eight J-16 fighters, four J-10 fighters, and four J-11 fighters entered the ADIZ, the Taiwanese Defense Ministry claimed. Taiwanese fighters were scrambled to monitor them.
While Taiwanese fighters, including Hualien's F-16s, have been repeatedly scrambling since early this month, the ministry has stressed Taiwan's "calm" response and there have been no clashes.
"I won't say there's a lot of change but our frequency to scramble is higher and the tension is higher," said F-16 pilot Django Lin.
Taiwan President Tsai Ing-wen has said they are not seeking to provoke or escalate tensions.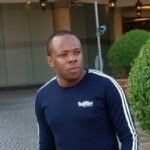 Nnamdi Maduakor is a Writer, Investor and Entrepreneur