President Vladimir Putin has stated that Russian tactical nuclear weapons will be stationed in Belarus, following repeated calls by Belarusian leader Alexander Lukashenko to station tactical nuclear weapons in Belarus.
Also read; Appeal Court upholds Adeleke as Osun governor
Speaking on Russia 24 TV on Saturday, President Putin said that the specialized storage facility being construction for the nuclear arms in Belarus will be ready by July 1, but did not specify when the weapons would be transferred.
The president also said that Moscow does not plan to hand over control of any tactical nuclear weapons to Minsk and that it would only deploy its own arms to Belarus.
President Putin also said the move would not violate nuclear non-proliferation agreements and compared it to the US stationing its weapons in Europe.
"There is nothing unusual here either," he said. "Firstly, the United States has been doing this for decades. They have long deployed their tactical nuclear weapons on the territory of their allied countries."
A small number of Iskander tactical missile systems, which can be used to launch nuclear weapons, have already been transferred to Belarus, President Putin said.
In his explanation, Putin said that the move was prompted by the UK's decision to provide Ukraine with depleted uranium munitions.
In an announcement earlier in March, which Moscow blasted the move as a sigh of absolute recklessness irresponsibility and impunity" on the part of London and Washington, the United Kingdom stated that it plans to send deplete uranium munitions shells to Ukraine for use with Challenger 2 battle tanks.
Reacting to the development, the United States of America said it did not believe Russia was preparing to use the nuclear weapons.
"We have not seen any reason to adjust our own strategic nuclear posture," the US Defense Department said in a statement.

"We remain committed to the collective defense of the NATO alliance."
When the weapons arrive Belarus, it will be the first time since the mid-1990s that Moscow will have based nuclear arms outside the country.
The Soviet Union's collapse in 1991 meant weapons became based in four newly-independent states – Russia, Ukraine, Belarus and Kazakhstan – with the transfer of all warheads to Russia completed in 1996.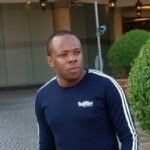 Nnamdi Maduakor is a Writer, Investor and Entrepreneur