Russia is reported to be selling crude oil at a price below the US$60 price cap imposed on Russian Oil by the EU, the G7 and Australia.
The price cap which came into force on 5th December, 2022 allows non-EU countries to continue importing seaborne Russian crude oil unless it is sold for less than $60. If it is sold above US$60 it will prohibit its shipping, insurance and re-insurance companies from handling cargoes of Russian crude around the globe.
Also read; VACANCY: NLNG is recruiting into various positions
The price cap and the ban appears to have compelled Russian sellers to cut down their prices to lure Asian buyers, thus having a market for the oil that erstwhile would have be bound for the European market.
Russian oil sellers are seeking to supply around 1 million barrels of crude oil per day to Asia.
India Today reported that calculations by Reuters showed discounts for Urals oil at Russian western ports for sale to India to be as wide as US$32-35 per barrel when fright is not included.
Freight rates however is reported to have risen to between US$11 and US$19 a barrel compared with less than US$3 per barrel before February, and twice as much as it was in the middle of the year.
In another report, Financial Times reported on Friday that Russia is shipping crude oil to India under the price cap mechanism on tankers insured by "western" companies.
FT stated that its analysis on cargo data from Kpler showed that at least seven tankers have been loaded with Russian crude since December 5, and that the vessels were insured by "western" companies.
The tankers are reported to be carrying 5 million barrels of crude from Russia's Baltic ports en route to Indian refineries.
One of the operators of the tankers, Ruby Phoenix was quoted to have told FT "We have from our counterparts the necessary attestation that the cargo in question complies with the price cap regulations."
This may be the first sign that Russia isn't backing off sales in accordance with the price cap mechanism as it had threatened to do.
The spokesman for the Russian Government, Dmitry Peskov on Saturday, 3rd December, stated that Moscow was not planning to recognize a Western-imposed price cap on Russian seaborne oil exports.
"Now we are analyzing," Peskov told journalists. "Some preparation was carried out for such a ceiling. We will not accept this ceiling, and we will provide further information on how the work will be organized after the review," he was quoted as saying.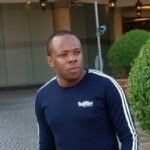 Nnamdi Maduakor is a Writer, Investor and Entrepreneur