This should, by all sporting standards, be a sad evening to all Nigerians, football lovers or not!
How can the Central African Republic (CAR) come to our backyard and beat us? This is totally unacceptable and no lover of football should relent until some thing meaningful is done about this.
Earlier tonight, Les Fauves of the CAR defeated the Super Eagles of Nigeria in a World Cup Qualifier at the Teslim Balogum Stadium in Surulere, Lagos.
Caught in a shambolic, uncoordinated display of negative football, the Eagles allowed the CAR players to doggedly contain them till the last minute of open play and got punished for their lethargic profligacy in front of goal.
Sub Karl Namnganda picked up a long pass from defence, hoodwinked Balogun and Onyeka, then had the struggling Uzoho to disgrace. It was a pathetic moment for Nigeria and, conversely, an ecstatic moment back in Bangui. History was made.
With an array of stars that featured top scorers in European leagues, the Eagles could not show why they are currently ranked 34th in FIFA's reckoning.
CAR, a war-ravaged country, ranked 124th by FIFA, publicly led the Eagles to the slaughter house making use of their first and only real effort of the night. It was totally shameful to the NFF, the Eagles crew, and any stakeholder of the Eagles on the night.
Now, let's think.
Can someone tell me what Gernot Rohr has achieved in the last five years? Can someone tell me what he is still doing in Nigeria? Why is the NFF not heeding the cry of Nigerian fans for Rohr's sack? Is it till he finishes this country's football before the needful is done? The truth of the matter is that there must be something shady in his contract that has made the NFF refuse to disclose the contents of his contract till now. There must be something we do not know that has made the NFF still keep this man who has totally proven that he is bereft of ideas for the progress of the Eagles.
Can someone also tell me the pattern Gernot Rohr is playing? What has happened to our traditional possessive football? Where are the creative midfielders and holding midfielders? Does it mean that when you comb the length and breath of Nigeria, you cannot find these? Totally ridiculous!
My heart is bleeding because Karl Namnganda has written a golden history for CAR with Nigeria as the slate. It pains me that why other countries are moving forward, we are retrogressing, especially in men's football.
To say the least and with all due respect to the CAR, this is a match that no foreign-based player is expected to have played. YES! Bring your proofs if you feel and think otherwise!
Because Gernot Rohr, in his romance with the NFF, does not find any good in the domestic league, he has refused to tap from that ambience. The excuse now is that the domestic league, the NPFL, is not in active season. Come off it, Rohr, have you ever banked on them before now? Again, if they are on break, are they no longer professional footballers? Instead of spending the huge sums on flight tickets for the foreign-based, can't you camp these guys for up to two weeks and put them to shape?
It is a slap on this nation to lose this kind of match with our foreign-based players. Is Rohr saying that without Wilfred Ndidi, Alex Iwobi and Oghenekaro Etebo, we do not have a good midfield? Who and who are actually Rohr's first team? I don't think Rohr himself can answer this question because every new match, we have a new foreign-based player of either quasi or full Nigerian descent coming to see how he fits in. The Super Eagles suddenly became a testing ground for all participants.
What has happened to motivation, team spirit and the 'audacity to refuse' of the Eagles golden age? If something is wrong in the team, can't one of the players speak up? Could they have played with such laissez-faireism at their respective clubs if they want to maintain their squad positions in the first team? Would they have traded their professional careers on the altar of being 'good boys'?
Truth, the NFF is owing Rohr eight months' salary. Is this national disgrace a revenge for the debts? If that is how he wants it, then he has had his revenge, so let him go. If not, the NFF should cough out his salary and bid him good bye. He does not have more ideas to offer in modern day football. The Super Eagles need a young, vibrant, digitally-enabled coach, not some old-fashioned, analog, hand-folding passerby whose fifteen minutes' pep talk at the interval has had no positive translations on the field of play since he took up the Eagles' mantle. Enough of that coldness.
My heart bleeds for this insult! This is a night of torment for a dedicated fan. This is a long night for one so passionate about the Super Eagles. Even if the Eagles beat Les Fauves 100-0 on Sunday in Cameroon, the deed has already been done. Mark this statement.
To say the least, NFF should just sack Mr. Gernot Rohr WITH IMMEDIATE EFFECT! That would be my personal pound of flesh. That would be soothing for the millions of Nigerians who cannot sleep tonight. That would be commensurate compensation for his abysmal failure.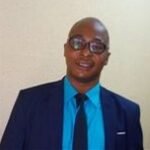 Azuka Edokobi is a Writer , a Farmer, a Supply Chain Expert and an Entrepreneur