On Tuesday, 22nd March 2022, President Muhammadu Buhari inaugurated the newly completed ultra-modern terminal at the Murtala Mohammed International Airport.
Investogist had reported on Monday that the  new MMIA terminal would be commissioned today, Tuesday 22nd March 2022. A travel advisory issued by FAAN at the time advised all travellers and airport users to get to the airport earlier than usual, due to heightened security and logistics arrangements on ground.
The new Murtala Muhammed International airport Lagos terminal which was built by the Chinese construction giants, CCECC, working with four local consulting firms, is equipped with 60 beds hotel facilities for passengers' comforts.
The terminal has a capacity to process 14 million passengers per annum and it's built on a landmass of approximately 56,000 square metres with 66 check-in counters according to a statement by FAAN.
Other facilities in the terminal include 5 baggage collection carousels, 16 Immigration desks at arrival, 28 Immigration desks at departure, 8 security screening points, 6 passenger boarding bridges but only 2 has been installed, 2 food courts, 4 premium lounges, 22 guest rooms and spa, 16 airline ticketing offices, visa on arrival and port health facility, as well as praying area, more than 3,000 square metres of duty-free space, approximately 5,000 square metres of lettable utility space, amongst others according to FAAN.
The airport is also equipped with category one navigational equipment, safety facilities and infrastructures.
The Lagos terminal is one of the five built in a bilateral arrangement between the Federal Government of Nigeria, and the People's Republic of China. The terminals are, Lagos, Abuja, Port Harcourt, Kano and Enugu.
The terminal, estimated to be worth over $100 million, is one of the five airports – Lagos, Abuja, Port Harcourt, Kano and Enugu – that benefited from the 2013 loan deal between Nigeria and China for the building of four new terminals. Port Harcourt and Abuja terminals had been opened since 2018. The new airport terminal commissioning is coming in about eight years after its scheduled delivery date.
The long-awaited facility will complement and create an avenue for the old international terminal to be overhauled. However, this is coming amid stakeholders' concerns over lack of parking spaces at the new terminal and the rationale behind concessioning of the airport.
According to the statement by the Acting General Manager, Corporate Affairs, Federal Airports Authority of Nigeria (FAAN), Faithful Hope-Ivbaze, the international terminal will generate about 3,000 direct and indirect employment for Nigerians, as well as enhance passenger facilitation and comfort at the Lagos airport.
She said the terminal in Abuja and Port Harcourt had been completed and commissioned while, Kano terminal would be completed and commissioned soon.
Faithful Hope-Ivbaze also disclosed that the Authority would also sign a memorandum of understanding with the Lagos State government on the nine-kilometre Airport-Shasha-Alimoso link Road to be constructed by the state.
Guardian reports that in an apparent move to make space for aircraft parking space around the facility, FAAN has begun demolition of buildings in close proximity, beginning with the regional office of the Accident Investigation Bureau Nigeria (AIB-N).
Other private entities and government agencies that may be affected are Dominion, Evergreen Apple Nigeria, Caverton, ExecuJet hangars, office complex of the Nigerian Airspace Management Agency (NAMA), the Federal Road Safety Corps (FRSC) and towing companies close to the AIB-N regional headquarters.
There are fears expressed in many quarters about the Chinese loans being used to build the new terminal. One of those fears was expressed by a group of former managing directors and directors of Federal Airports Authority of Nigeria. They warned against a Mezzanine Clause in all Chinese sponsored projects, adding that any contravention of the agreement on the $500 million loan may lead to invocation of the clause and give the Asians right to the infrastructure.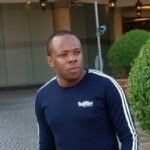 Nnamdi Maduakor is a Writer, Investor and Entrepreneur