The Nigerian Exchange Group Plc (NGX: NGXGROUP), formerly known as the Nigerian Stock Exchange has reported a profit of N148.30 million for the first quarter period ended 31st March, 2022.
The Group, owners of the Nigerian Exchange Limited, published its quarter 1 unaudited financial statements for 2022 on Friday, 29th April, 2022.
The NGX Group Plc has a 99.9% holding in Nigerian Exchange Limited. Nigerian Exchange Limited is a Company domiciled and incorporated in Nigeria. The principal activities are to provide facilities to the public for the purchase and sale of securities, a platform for the listing of securities and sale of securities to the public, market data and indices for sale to the public. NGXGROUP Shares are traded on the Nigerian Exchange Limited.
Income Statement:
Revenue: N1.67 Billion, compared to N1.34 Billion in Q1 2021 (24.80% YoY Growth). The components of the revenue are; N520.47 million from Treasury investment, N988.06 million from Transaction fees, N123.86 million listing fees, N27.20 million rental income and N16.94 million from other fees.
Personnel Expenses: N698 million, compared to N767 million in Q1 2021 (9.00% YoY Decrease).
Operating Expenses: N1.02 Billion, compared to N273 million in Q1 2021 (276.92% YoY Increase). The bulk of the operating expenses is the N686.48 million finance cost paid in the quarter in review.
Profit Before Tax: N339 million, compared to  N803 million in Q1 2021 (57.78% YoY Decline);
Profit After Tax: N148 million, compared to N803 million in Q1 2021 (81.57% YoY Growth).
Earnings Per Share: 2 kobo
Balance Sheet:
Total Assets: N63.77 Billion, compared to N37.86 Billion as at 31st December 2021 (68.41% Growth). The bump in Assets were seen in cash and cash equivalents of N13.62 billion (31 Dec. 2021: N2.24 billion) and Deposit for strategic investment of N14.11 billion (none existed before now). The company did not name the strategic investment, it only said it was awaiting regulatory approval.
Total Liabilities: N29.51 Billion, compared to N3.75 Billion as at 31st December 2021 (686.17% Increase). The increase came from a N25.52 billion term loan taken in the quarter, the company had no such loan at at 31st December 2021.
Shareholders' Fund: stood at N34.26 Billion, a 0.43% growth from N34.11 Billion as at 31st December 2021.
Retained earnings: stood at N31.28 billion, a 0.45% growth from N31.14 billion as at 31st December 2021.
Cashflow:
Operating activities: N1.21 billion was generated from operating activities.
Investing activities: N15.17 billion was used for investing activities.
Financing activities: N25.33 billion was used for financing activities.
Cash and Bank balance at the end of the period was N13.62 billion.
There was no corporate action announcement following the release of the financial statements.
About the Company
The Nigerian Exchange Group Plc ("NGX Group") formerly known as the Nigerian Stock Exchange, was incorporated in Nigeria as a private Exchange Limited by shares on 15 September 1960 as Lagos Stock Exchange and its name was changed to The Nigerian Stock Exchange on 15 December 1977.
The Exchange was re-incorporated as a Exchange Limited by Guarantee on 18 December 1990. In 2021, the Nigerian Stock Exchange was fully demutualised changing from a member-owned not-for-profit entity into a shareholder-owned, profit making entity. This gave rise to a new structure – Nigerian Exchange Group Plc (NGX Group) with subsidiaries – Nigerian Exchange Limited (NGX Exchange), NGX Regulation Limited (NGX
REGCO), and NGX Real Estate Limited (NGX RELCO).
The address of the NGX Group's registered office is Stock Exchange House, 2/4 Customs Street, Lagos.
The principal activities of Nigerian Exchange Group Plc ("NGX Group") and subsidiaries (the Group) include listing and trading securities, licensing, market data solutions, ancillary technology, regulation, real estate, and more through its wholly-owned subsidiaries – NGX Exchange, NGX REGCO, and NGX RELCO.
The company has 1.96 billion shares outstanding and a market capitalization of N47.23 billion. Its shares closed trading on Friday 29th April at N24.05 per share.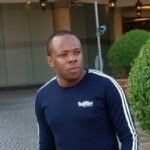 Nnamdi Maduakor is a Writer, Investor and Entrepreneur