February has not been kind to Equity Investors on the Nigerian Stock Exchange, today's loses made it 8 consecutive days of loses, starting from the very 1st day of February. This week had started with a minus 0.34% decline for the Nigerian Stock Exchange All-Share Index (NSE-ASI) on Monday, the rate of decline moderated on Tuesday, as the NSE-ASI dropped only 0.13% to close at 41,510.16 points.
On Wednesday, there was renewed and intensified sell pressures across multiple counters, forcing the benchmark index to record 1.96% loss and close at 40,696.01 points. The Market Capitalization also dropped by the same percentage.
Equity Investors' wealth got reduced by N425.918 billion, as the market capitalization settled at N21.289 trillion.
Year to Date gains for the NSE-ASI dropped to 1.06%, while the overall Investors' gain so far in the year reduced to N233.143 billion.
The magnitude of the loses can be attributed to the high cap stocks that depreciated on the day. Dangote Cement Plc, the most capitalized company on the market had its share price lose 7.39% to close at N213.00.
ZENITHBANK, ACCESS, and UBA; the 7th, 11th and 12th most capitalized stocks respectively lost 3.10% (ZENITHBANK), 4.71% (ACCESS) and 6.90% (UBA).
Activity level
The activity level improved on Wednesday, as both the volume and value of shares traded increased. 366,858,804 shares were traded, a 19.92% increase on the 305,927,696 shares traded on Tuesday's trading session.
The value of traded shares increased by 38.74%, from shares worth N3.951 billion traded on Tuesday to N5.482 billion.
Banking stocks dominated the activity chart as they accounted for all the three most traded shares by volume. ZENITHBANK, FBNH and GUARANTY shares were the most traded, with 43.741 million, 40.029 million and 35.980 million shares respectively.
Guaranty Bank Plc shares were the most traded by value, with shares worth N1.167 billion exchanging hands in 370 deals.
ZENITHBANK and MTNN were the second and third most traded stocks by value with shares worth N1.102 billion and N846.214 million exchanging hands in 527 and 187 respectively.
Performance of Indices
All indices under our watch except the Oil & Gas Index depreciated in the day's trading session;
Oil & Gas Index advanced by 0.06%, on the back of gains in CAVERTON (+2.50%)
Consumer Goods Index declined by 0.38%, as the index heavy weights endured loses; FLOURMILL (-5.65%), UNILEVER (-4.90%), UACN (-4.88%) and DANGSUGAR (-2.30%)
Insurance Index declined by 1.15%, as Investors continue to cash out of its stocks; AIICO (-6.72%), LINKASSURE (-9.09%), amongst others
Banking Index declined by 3.36% as sell pressure was experienced across multiple banking stocks, including of the bellwether FUGAZ stocks
Industrial Goods Index declined by 3.70%, pulled down by DANGCEM (-7.39%) and WAPCO (-2.62%)
Investor Sentiment
Investor sentiment as measured by market breadth (advance/decline ratio) weakened to 0.4x from the 1.0x recorded previously as 13 stocks gained against 36 losers.
Top 5 gainers by percentage are;
NIGERINS gained 10.00% to close at N0.22
CHAMPION gained 9.82% to close at N3.02
WAPIC gained 7.41% to close at N0.58
ACADEMY gained 6.06% to close at N0.35
GUINESS gained 4.83% to close at N20.60
Top 5 losers by percentage are;
SUNUASSUR lost 10.00% to close at N0.81
SOVERENINS lost 10.00% to close at N0.27
REGALIN lost 10.00% to close at N0.27
FIDSON lost 10.00% to close at N5.40
ETRANZACT lost 10.00% to close at N2.25
Outlook
The sustained decline in the market over the last trading days (8 consecutive days to be precise) is opening up interesting and attractive entry positions ahead of the dividend season.
Equity Investors looking to put money into the market will be well-served to keep an eye on the consistent dividend paying stocks for bargain entries.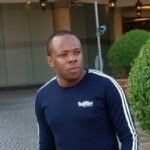 Nnamdi Maduakor is a Writer, Investor and Entrepreneur