Organised Labour in Nigeria's Financial Sector, under the aegis of the Association of Senior Staff of Banks Insurance and Financial Institutions, ASSBIFI, has directed bank workers in Lagos and other states where banks have been attacked to stay off duty for safety reasons until normalcy returns.
In a circular to all its units nationwide, President of ASSBIFI, Olusoji Oluwole, said that the National Secretariat has been inundated with reports of threats and attacks on lives and properties of members and bank branches, and subsequently has been on the field to monitor and confirm the reports.
Also read; We didn't authorize banks to collect old N500 and N1,000 banknotes – CBN
In the circular dated 17th February 2023, the Association said that it has issued warnings and appeals to government to provide security measures for the safety of lives and properties of its members within and around the bank premises, but regrettably the attacks have continued without any form of security for the safety of its members, and the recent attack today, Friday 17th February 2023 on one bank branch at Epe, Lagos State.
Given that it cannot leave the lives and properties of ts members exposed to obvious danger,, it has consequently orders all its members with immediate effect to stay away from work in any state where bank branches are attacked.
The Association had earlier on Thursday threatened to pull members out of the banks should attacks on bank continue.
At a briefing, Oluwole lamented that no fewer than seven bank branches were burnt, Automated Teller Machines, ATMs, were destroyed and workers' personal effects were damaged, as well as a heavy attack on their members.
 According to him, said the last count of attacks, which happened previously in Oyo and Ogun states were put at about N2 billion, while the recent attack increased the banks' losses to N5 billion.
He said, " Right now, I want to believe that we will be talking about not less than five billion Naira and we are still counting, because seven branches have been burnt, ATMs have been destroyed, personal effects have been damaged, vehicles and so on and so forth."
Oluwole informed that the Association has put its members on alert to be withdrawn without further notice should the attacks and threats to their lives continues, saying "we value the lives of our members and colleagues and will not put them at any further risk. We have put them on alert and shall instruct them without further warning to immediately stay away from their branches if these attacks on our members and facilities continue until such a time that they can be guaranteed their personal safety and the security of their workplaces by the relevant authorities.
He called on the public to desist from threatening or attacking its members, or destroying their properties as they will be only proverbially cutting their noses to spite their faces. He argued that bankers can only give what they have been provided with and nothing more.
He challenged the news media to be investigative, verify and probe their information so that the nation and the world will know the truth. He went on to state that the nation is in a critical period of our National development, and all hands must be on deck to bring Nigeria out of the woods. Fake and deceptive information must be checked at a time like this.
"ASSBIFI and National Union of Banks Insurance and Financial Institutions Employees, NUBIFIE, members are highly responsible, ethical, and patriotic people, mindful of the negative impact industrial action in an already charged environment, but if we are pushed, we will do what is necessary to defend and protect ourselves," he concluded.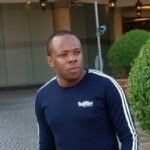 Nnamdi Maduakor is a Writer, Investor and Entrepreneur