On Sunday, 23rd October 2022, President Xi Jinping was re-elected the general secretary, the leader of the Chinese Communist Party (CCP) for an unprecedented third term.
According to the constitution of the Chinese Communist Party, the general secretary serves as an ex officio member of the Politburo Standing Committee, China's top decision making body.
Have you read? Dubai Immigration stops visa approval for Nigerians
By his election, Xi Jinping has now secured another five years as the leader of China, and will also retain his role as chairman of the Central Military Commission, the highest defense body in charge of the People's Liberation Army.
Xi Jinping is expected to retain his title as the President of China, which by Chinese laws is a ceremonial position.
Xi's reelection came after a week-long 20th National Congress of the CCP concluded in Beijing in Saturday.
The Central Committee also picked members of the new Politburo Standing Committee, China's most powerful decision-making body, which comprises seven people. Along with Xi Jinping, the committee will also consist of Li Qiang, Zhao Leji, Wang Huning, Cai Qi, Li Xi and Ding Xuexiang – all of whom are described as allies of the president.
Xi introduced the new members of the Politburo Standing Committee as he led them onto the stage at Beijing's Great Hall of the People to meet the press.
The Congress had also approved amendments to its constitution, which reiterated it's opposition to Taiwanese independence and confirmed plans to enhance China's military potential.
Xi Jinping will be the first Communist Party official to rule China for more than two terms since the founder of People's Republic of China (PRC), Mao Zedong, who served as the party's chairman between 1943 and 1976.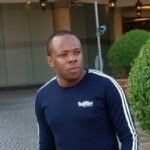 Nnamdi Maduakor is a Writer, Investor and Entrepreneur