The leaders of G7 nations has agreed on new sanctions Russia with the objective to "starve Russia's war machine."
DW reported that US President, Joe Biden backed advanced fighter jets and pilot training for Ukraine at the G7 summit at the Japanese city of Hiroshima.
Also read; Biden administration warns schools against encouraging private prayer, other religious activities
In a joint statement, the G7 nations said they were "imposing further sanctions and measures to increase the costs to Russia and those who are supporting its war effort" in order to "starve Russia's war machine."
"We are also building on the success of our efforts to ensure that Russia is no longer able to weaponize the availability of energy against us and against the world," the statement added.
The grouping said they would step up efforts to prevent circumvention of their existing sanctions regime, "including targeting entities transporting material to the front".
G7 leaders called again for Russia to withdraw its troops from Ukraine and vowed more financial, humanitarian, military and diplomatic support to Kyiv "for as long as it takes."
The G7 is an informal grouping of seven of the world's advanced economies, including Canada, France, Germany, Italy, Japan, the United Kingdom, and the United States, as well as the European Union.
While the United States of America is expected to cut off about 70 companies from Russia and other countries from US exports, the United Kingdom and the European Union are targeting trade in Russian diamonds.
UK's Prime Minister took to twitter to announce a ban on Russian diamonds, copper aluminium and nickel, a trade worth US$4-5 billion per annum.
Ensuring Ukraine wins is the most important thing we can do for global peace and security.

We are banning all imports of Russian diamonds, copper, aluminium and nickel.

Sanctions are having a clear impact in degrading Putin's war effort.

The G7 stands united with ???????? pic.twitter.com/rrHblLoF5K

— Rishi Sunak (@RishiSunak) May 19, 2023
European Council President Charles Michel also said on Friday that the bloc wants to limit trade in Russian diamonds.
The G7 as a whole is expected to further announce restrictions on the multi-billion dollar export of rough diamonds from Russia.
EU member Belgium is among the largest wholesale buyers of Russian diamonds, along with the United Arab Emirates and India, whose prime minister Narendra Modi will join the G7 talks this weekend.
Russia has already been subjected to so many sanctions since President Putin ordered the Russian Army into Ukraine in what he called a "special military operation."
The European Union (EU), US, UK and Canada froze assets of Russia's central bank in their countries.
Major Russian banks have been removed from the international financial messaging system Swift.
The UK has froze the assets of other Russian banks and banned Russian firms from borrowing money.
The EU placed limits on deposits Russians can make at banks.
The EU stopped importing Russian coal and banned refined oil imports.
The US and UK banned all Russian oil and gas imports.
Germany stopped the opening of the Nordstream 2 gas pipeline from Russia.
In December 2022, the EU and G7 set a maximum price of $60 a barrel for Russian crude oil.
More than 1,000 Russian businesses and individuals have been targeted by the US, EU, UK and other countries.
Assets belonging to President Putin and Foreign Minister Sergei Lavrov were frozen.
At least 16 superyachts linked to sanctioned Russians wer seized.
In New York, Russian aluminium magnate Oleg Deripaska has been charged with violating US sanctions.
The UK has stopped the sale of "golden visas", which allowed wealthy Russians to get British residency rights.
More than 1,000 international companies, including McDonald's, PepsiCo, H&M and Adidas, were forced out of Russia because of sanctions.
Ban on the export of dual-use goods – items with both a civilian and military purpose, such as vehicle parts – by the UK, EU and US.
A ban on all Russian flights from US, UK, EU and Canadian airspace.
A ban on the export of luxury goods to Russia.
While Western leaders predict a collapse of the Russian economy, the International Monetary Fund predicts that Russia's economy could grow by 0.7% in 2023.
Data from the International Energy Agency (IEA) shows that Russia is exporting 8.3 million barrels of oil a day, the highest level since April 2022. The biggest importers being India and China.
BBC reported that Russia has reacted to the sanctions by;
 banning export of more than 200 goods from the West, including telecoms, medical, vehicle, agricultural, electrical equipment and timber products.
blocking interest payments to foreign holders of government bonds, and banning Russian firms from paying overseas shareholders.
banning foreign investors, who hold billions of dollars worth of Russian investments, from selling them.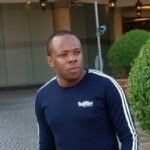 Nnamdi Maduakor is a Writer, Investor and Entrepreneur