FBN Holdings Plc (NGX: FBNH), the parent company of First Bank of Nigeria Limited has reported a profit of N136.31bn for the 2022 financial year.
The banking group had on Thursday released its Separate and Consolidated Financial Statements for the year ended 31 December, 2022.
Also read; BREAKING: NLC declares nationwide strike from Wednesday
The financial statements showed that the banking group posted a gross income of N805.12bn in the year, a 6.32% growth from te N757.29bn it posted in 2021.
Investogist reported in April, that FBNH announced a delay in the filing of the company's 2022 audited financial statement citing pending audit of a major subsidiary and the requisite approval of its primary regulator as reasons for the delay.
The Board of Directors recommended a dividend of 50 kobo per ordinary share, amounting to N17,947,646,398 (2021: N12,563,352,477/ dividend of 35 kobo per ordinary share).
Review of the Financial Statements
Income Statement:
Interest Income: The group's interest income grew by 49.56% from N369.04bn to N551.93bn. Interest from loans and advances to customers was the biggest contributor to the interest income with N403.61bn (2021: N271.02bn). N188.68bn was recorded as interest expense, with N117.19bn a large chunk of the expense being interest paid on deposit from customers.
Fee and commission income: FBNH reported a modest growth in Fee and commission income, as it posted N143.98bn income, a 2.42% increase from N140.57bn posted in the previous year. Electronic banking fees of N55.09bn and Account Maintenance income of N19.88bn were the biggest contributors to the fees and commission income. The group incurred fees and commission expense amounting to N26.01bn (2021: 23.93bn). Fee and commission expense primarily relates to charges raised by switching platforms on holders of First Bank Limited ATM cards, who make
use of the other banks machines while transacting business, and SMS alert related expenses.
Foreign exchange income: FBNH reported N23.32bn gain from foreign exchange trading gain (2021: N10.61bn).
Personnel expenses: The personnel expenses of the group dropped by 8.85% from N128.77bn in 2021 to N117.37bn. Wages and Salaries gulped N97.58bn (2021: N116.25bn) while "other staff benefits" took N13.90bn (2021: N6.01bn). The average number of persons employed with the group reduced from 128,772 to 117,376.
Operating expenses: The Banking Group's operating expenses increased by 23.35% from N177.13bn to N218.48bn. Maintenance, Regulatory cost and Insurance Premium were the biggest items on the operating list with N42.96bn, N39.76bn and N29.44bn respectively.
Profit Before Income Tax: There was a 5.26% decline in the profit before tax, from N166.66bn to N157.90bn.  A total of N23.37bn was recorded as income tax expense, with N15.44bn paid as corporate tax, N5.59bn as education tax and N2.02bn paid as technology tax.
Profit After Tax: FBNH posted a profit after tax of N136.31bn, 9.82% lower than the N151.14bn it reported in 2021.
Earnings Per Share: N3.74 against N4.17 reported in the preceding year.
Balance Sheet:
Total Assets: The Banking Group's total asset grew by 18.42%, from N10.57tn to N8.93tn.  Loans and advances to customers amounting to N3.78tn was the biggest component of the Group's asset, followed by Investment securities and cash & balances with central banks amounting to N2.32tn (31 Dec. 2021: N1.95tn) and N1.79tn (31 Dec. 2021: N1.58tn) respectively.
Total Liabilities: The total liabilities also increased by 18.99% from N8.05tn to N9.58tn. Deposits from customers constituted a bulk of the liabilities, accounting for N7.12tn (31 Dec. 2021: N5.84tn) of the N9.58tn. Deposits from bank accounted for N1.05bn.
Shareholders' Fund: The shareholders' fund went up by 13.17%, from N879.85bn to N995.74bn. The retained earnings, the biggest component of shareholders' fund accounted for N397.70bn (31st Dec. 2021: N311.87bn).
Cashflow:
Operating activities: N467.77bn was generated from operating activities, marginally higher from the N452.95bn generated in 2021.
Investing activities: N293.14bn was used in investing activities, lower than the N922.51bn used in 2021.
Financing activities: N226.90bn was generated from financing activities, against N12.00bn used for the same activity in 2021.
Cash and cash equivalents: At the end of 2022, FBNH had cash and cash equivalent of N1.86bn (2021: N1.45bn)
About the Company
FBNHoldings is a multifaceted and one of the largest financial services organisation in Africa. It is well-diversified essentially along Commercial Banking, Merchant Banking, Capital Markets, Trusteeship and Insurance brokerage.
The Registered office address of the Company is at 35 Marina, Samuel Asabia House, Lagos, Nigeria.
The principal activities of the Group are mainly the provision of commercial banking services, investment banking services, and provision of other financial services and corporate banking.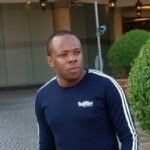 Nnamdi Maduakor is a Writer, Investor and Entrepreneur