The presidential candidate of the All Progressives Congress (APC), Bola Tinubu, has claimed that the government of Muhammadu Buhari "took over the lowest production of 400,000 barrels of oil and the worst pricing."
Tinubu said this while speaking at the launch of the women's team of the APC presidential campaign on Monday.
He said, "In the last eight years, even a party that inherited a troublesome nation under the weight of uncertainty, then we preach change of government which God has changed.
"Buhari took over, he took over the lowest production of 400,000 barrels of oil, the worst pricing, still the very determined and focused person was able to bail out even 36 states of this country who are not able to pay salary, people who are living in hunger — give him a bravo."
However, the  2023-2025 Medium Term Expenditure Framework and Fiscal Strategic Paper (MTEF and FSP) recently released by the Federal Government and presented by the Minister of Finance, Budget and National Planning, Dr Zainab Ahmed showed that oil production was at its peak of 2.13 million barrels per day in 2015, the year president Buhari took over.
The report also showed that daily oil production has been dwindling in recent years, with the lowest recorded this year.
Nigeria's oil production stood at 2.13mbpd in 2015 but dipped to 1.48mbpd in 2021, the MTEF showed.
The decline in oil output continued in 2022 with a production of 1.12 million barrels per day recorded in March this year.
Nigeria's oil production has continued its downward trend, slumping to as low as 1.084mbpd in July.
The government in the MTEF report blamed the low oil production on shut-ins due to pipeline vandalism and crude oil theft.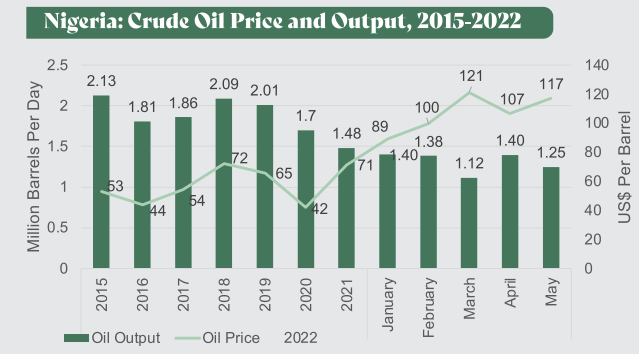 Source: MTEF 2023 – 2025
Recall that the Organization of Petroleum Export Countries (OPEC) and its allies increased Nigeria's oil production quota to 1.830 million barrels per day in September 2022 from 1.826 million barrels per day in August.
On the issue of pricing, the Federal Government in February expressed concern over the rising price of oil, saying that the rising oil price is not good for the country.
In an interview with Bloomberg, the Minister of State for Petroleum Resources, Mr. Timipre Sylva, stated that Nigeria's comfort zone in terms of oil prices was between $70 and $80 per barrel and that he hopes that oil price will come down to that range.
Oil bench mark Brent crude rose above $100 for the first time since 2014 to as high as $104.33 per barrel in February as a result of Russia-Ukraine crisis.
In March this year, Brent crude to nearly $140 per barrel, the highest price since 2008.
At the time of writing is report, Brent crude is trading at $94.72 per barrel.
Nigeria banner oil, Bonny Light closed at $95.58 per barrel on Tuesday.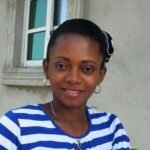 Ifunanya Ikueze is an Engineer, Safety Professional, Writer, Investor, Entrepreneur and Educator.