Covid-19 pandemic has changed life as we know it. Lockdown and social distancing from family members, friends and colleagues have become the new normal.
Wearing of facemasks is now the new fashion which people are forced to adopt to stay safe. Social events as we know it have turned to thing of the past.
Visiting elderly people has become a nightmare due to the fear of putting them at risk. Some sports events like football have returned after months of break without the cheering of fans.
The 2020 Olympic games which was scheduled for  24 July to 9 August 2020 in Tokyo was postponed in March due to the Coronavirus pandemic as the world struggle to contain the spread. The new date is set at 23 July – 8 August 2021.
Regular hospital checkups is now a cause of concern, cancelled in most cases due to the fear of Covid-19. Travelling and vacation has been put on hold.
Homes that use to be a place of rest, has become a place of work for many, while millions of people out of job, and the list goes on.
The question everyone ask is; when will life as we know it get back to normal? Can we ever return to status quo before Covid-19 pandemic?
The truth is, there is no clear-cut answer to this question yet, however there are projections from 511 epidemiologists and infectious diseases specialists from the U.S and Canada.
These 511 experts were presented with 20 common daily activities and asked when they might personally begin to engage in them again.
The activities include eating in a restaurant, sending children to school, outdoor picnic, going to salon, travelling, attending wedding and funeral among others.
Their responses, were based on the latest publicly available and scientifically-backed data, although it varied based on assumptions around local pandemic response plans.
The experts also noted that their answers would change depending on potential treatments and testing rates in their local areas.
The responses of the interview as recorded by New York Times were used to create a graphic to visualize their opinions.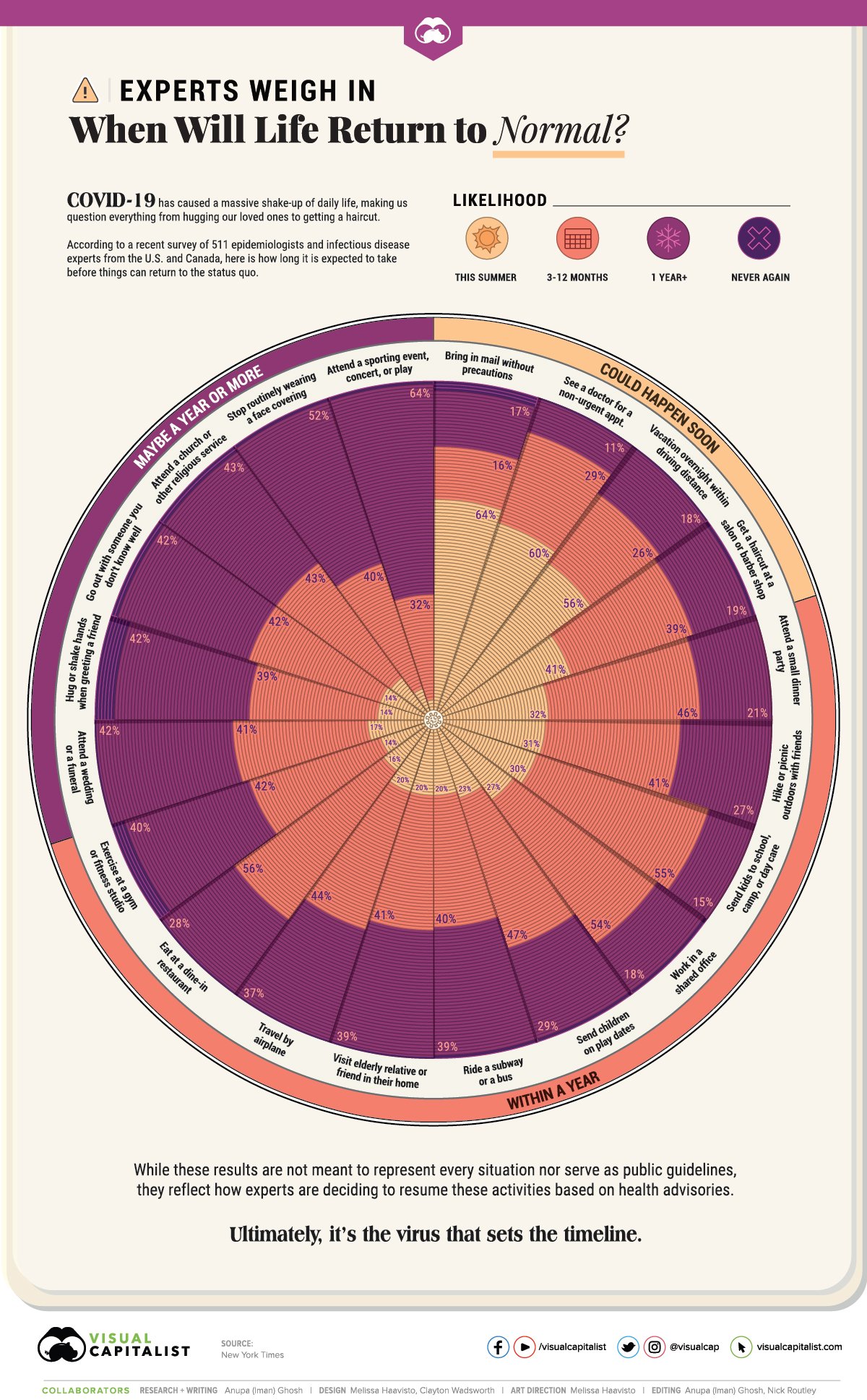 No activity has up to 65% chance of returning this summer. Three activities that have over 50% chance of returning this summer according to the experts are;
Bring in mail without precautions (64%)
See a doctor for a non-urgent appointment (60%)
Overnight vacation within a driving distance (56%)
Three activities with over 50% chance of returning within 3 – 12 months are
Eat at a dine-in restaurant (56%)
Send kids to school (55%)
Working in a shared office (54%)
Here are the activities that majority of professionals see starting up as soon as this summer, or within a year's time: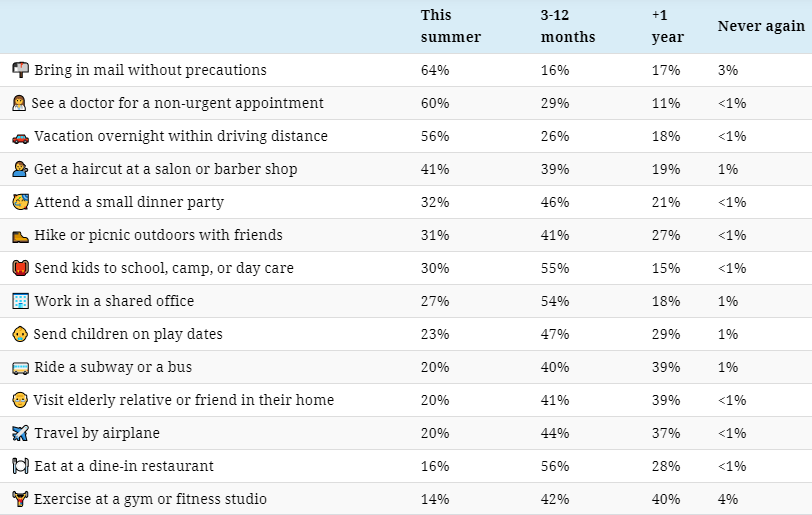 Whereas some activities have high percentage chance of returning in over a year. These include attending a sporting event, concert or play which recorded a 64% chance of returning in more than 1 year.
Majority of the experts see wearing of masks continuing for over a year.

Public transport and travel of any form is one aspect that has been put on hold, whether it's by plane, train, or automobile. Many of the surveyed epidemiologists also lamented the strain the pandemic has had on relationships, due to the social situations.
Bottom line; although there is no specific answer as to when life will return to normal, these responses from experts present some perspectives into what to expect in the near future as the battle against Covid-19 rages on.
With the ongoing race to discover/develop vaccines or treatments for the virus, and some potential breakthroughs, one can only hope that one day, we be will be able to live and move freely once again.
However, in the meantime, it is important to observe safety measures like good personal hygiene, social distancing, going out only when it is absolutely necessary, wearing face masks among others.
In addition, eat healthy (with lots of fruits and vegetables), exercise regularly, get adequate sleep etc to boost your immune system and remember to worry less. We will get through this.
Written by;
Ifunanya Ikueze