Danish international and Inter Milan Midfielder, Christian Eriksen has been discharged from hospital after a "successful" operation to fit a heart-starting device.
The Danish Football Association confirmed this in a statement of Friday.
Christian Eriksen has been discharged from the hospital. More here ⬇️#ForDanmark pic.twitter.com/jzF338XiC1

— DBU – En Del Af Noget Større (@DBUfodbold) June 18, 2021
Eriksen had suffered a cardiac arrest during their first Euro 2020 match against Finland in Copenhagen on Saturday.
He was administered CPR and a defibillator was used on him on the pitch before he was removed to the hospital.
"Today he also visited the national team in Helsingor — and from there he will go home and spend time with his family" – The FA said in a statement.
The incident reveberated through football with many players sending well wishes Eriksen and his teammates.
The game between Belgium and Denmark on Thursday was stopped in the 10th minute as a tribute to Eriksen.
"Thank you for the massive number of greetings, it has been incredible to see and feel," Eriksen said in a statement following his release from hospital.
"The operation went well, and I am doing well under the circumstances. It was really great to see the guys again after the fantastic game they played last night. No need to say, that I will be cheering them on Monday against Russia."
Denmark have lost their first two matches; 0-1 to Finland, and 1-2 to Belgium.
Danish players have been critical of UEFA for not giving them more options in the aftermath of Eriksen's collapse.
"We were put in a position which I personally don't think we should have been put in," Denmark goalkeeper Kasper Schmeichel told reporters on Monday.
"It probably required that someone above us had said that it was not the time to make a decision and maybe should wait for the next day."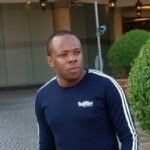 Nnamdi Maduakor is a Writer, Investor and Entrepreneur