Republican Kevin McCarthy has been voted out of the US House Speakership seat on Tuesday.
The 55th speaker of the House of Representatives was removed in a vote brought by rebels in the Republican party.
Also read; Supreme Court sets date for hearing Nnamdi Kanu's case
Kevin McCarthy became the first speaker, a position second in line from he presidency in the federal hierarchy to be ousted in US history.
He won the Speakership of the United States of America's House of Representatives in January with 216 votes out of the 418 votes cast in the 15th ballot.
It took four days and 15 votes, the longest the chamber had gone without a leader in a century to get McCarthy elected.
McCarthy had won only after reaching a deal filled with many promises with the House Freedom Caucus, a group of ultra conservative Republicans led by Rep. Matt Gaetz, R-Fla.
Rep. Matt Gaetz, R-Fla., introduced a measure against McCarthy known as a motion to vacate on Monday night, accusing him of breaking promises he made to win the speaker's gavel in January.
Eight Republicans voted with every present Democrat to vacate the speaker's chair. The final vote was 216 to 210 in favor of McCarthy's ouster.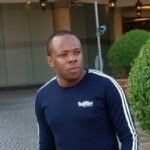 Nnamdi Maduakor is a Writer, Investor and Entrepreneur