Florida Governor Ron DeSantis has entered the 2024 presidential race on Wednesday, throwing his hat into the crowded Republican primary contest.
Also read; UK bans Nigerian students and others from bringing family
The outspoken and popular 44-yar-old conservative will test his national appeal against the Republican frontrunner, former President Donald Trump.
AP reported that the Governor revealed his decision in a Federal Election Commission filing before an online conversation with Twitter CEO Elon Musk, where he is expected to make an announcement.
DeSantis has garnered significant interest among GOP primary voters by casting himself as a younger and more electable version of Donald Trump.
He is considered to be Trump's strongest Republican rival. Both men will face off against other notable Republicans in the primaries, which includes; former U.N. Ambassador Nikki Haley, South Carolina Sen. Tim Scott, former Arkansas Gov. Asa Hutchinson and biotech entrepreneur Vivek Ramaswamy.
Former Vice President Mike Pence is also considered a likely presidential candidate but has not yet announced a bid.
The Republican nominee will face Biden on the general election ballot in November 2024.
Investogist reported in April that President Joe Biden announced that he will seek re-election for the presidency in 2024, asking voters to give him more time "finish the job."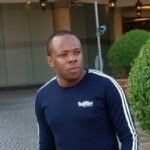 Nnamdi Maduakor is a Writer, Investor and Entrepreneur