On Wednesday, suspected scammers took over a several U.S high-profile Twitter accounts, including former US President Obama, Bill Gates, Joe Biden, Warren Buffet, Elon Musk, Jeff Bezos, Kanye West, Michael Bloomberg apparently looking to swindle users out of large sums of cryptocurrency.
Some company accounts were also compromised including Apple, Coinbase, Coindesk, Uber.
Hackers sent out tweets from their victims accounts – billionaires, celebrities, politicians, offering to give donations in the spirit of giving back to the society as long as they received first.
One of such tweets from Bill Gates read "Everyone is asking me to give back, and now is the time, You send $1,000, I send you back $2,000."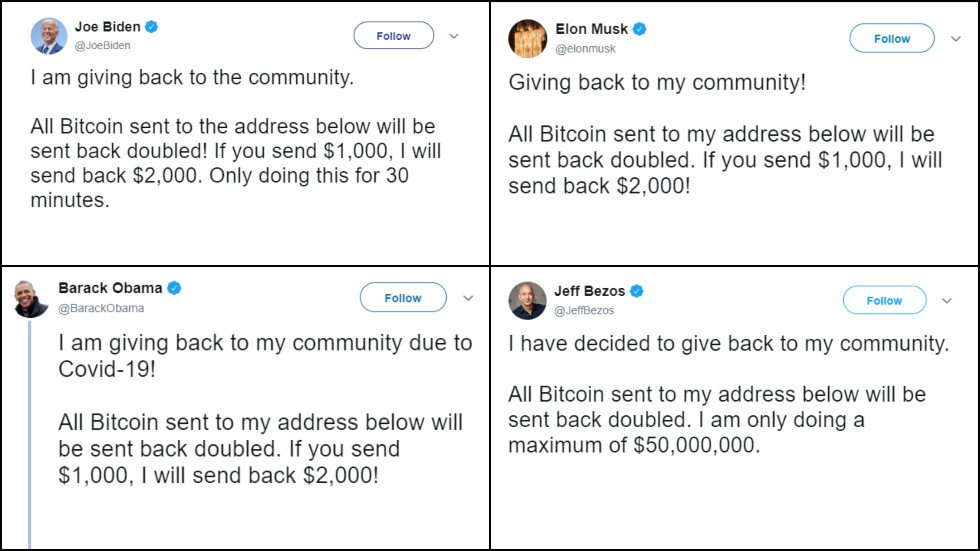 What Twitter did
Twitter first acknowledged the security breach which is not the first but appears to be the worst in the company's history saying its investigating the incident and taking steps to fix it.
The company later blocked all verified Twitter accounts with blue ticks from sending out tweets or reset password, as it tried to fix the issue. However, it has now said most verified accounts can begin tweeting again.
Most accounts should be able to Tweet again. As we continue working on a fix, this functionality may come and go. We're working to get things back to normal as quickly as possible.

— Twitter Support (@TwitterSupport) July 16, 2020
Twitter shares plummeted by nearly 4 percent after markets closed, according to Reuters, shedding most of Wednesday's gains.
Wednesday's security breach was not Twitter's first run-in with hackers – company CEO Jack Dorsey himself was compromised last year but the company said it had fixed the flaw that left his account vulnerable.
According to the bitcoin address provided in the deceptive tweets, the scam has racked up over $100,000 in cryptocurrency in series of transactions.
It remains unclear how the hackers gained access to so many accounts,
The FBI's San Francisco field office put out a statement on Wednesday about the latest cyber-breach.
"The accounts appear to have been compromised in order to perpetuate cryptocurrency fraud," it said.
Written by;
Ifunanya Ikueze