In a presentation published on The Nigerian Stock Exchange (The NSE), AXA Mansard Insurance Plc (NSE: MANSARD) forecasts a 12% growth in its Profit for the first quarter period ending 31 March, 2021.
In the earning forecast seen by Investogist, the Composite Insurer expects a 14% growth in its Gross premium written. It forecasted that there N24.094 billion gross premium to be written,, it wrote premium worth N21.085 billion in Q1 2020, and has forecasted to write N48.012 premium by end of 31 Dec. 2020.
Total underwriting expenses is also expected to grow by 17%, it projects that it will incur a total of N7.754 billion underwriting expense. MANSARD spent N1.998 billion as underwriting expense in Q1 2020, and forecasted a total underwriting expense of N23.472 billion by the end of December 2020.
N1.261 billion investment income is expected in Q1 2021, a ZERO percent growth Year-on-Year (YoY). It forecasted a N6.938 billion investment income for the period ending 31 December 2020.
Expenses for marketing and administration is expected to reduce by 12% YoY, while Employee benefit expenses are expected to increase by 19% YoY.
Profit Before Tax (PBT) is forecasted to be N2.248 billion, 12% increase from the N2.007 billion reported in Q1 2020.
Its Profit for the period in question is expected to be N2.043 billion, also 12% growth from the N1.821 billion reported in Q1 2020.
It forecasts a 170% upward change in the available-for-sale financial assets, from N95.085 million reported in Q1 2020, to N257.130 million expectation in Q1 2021.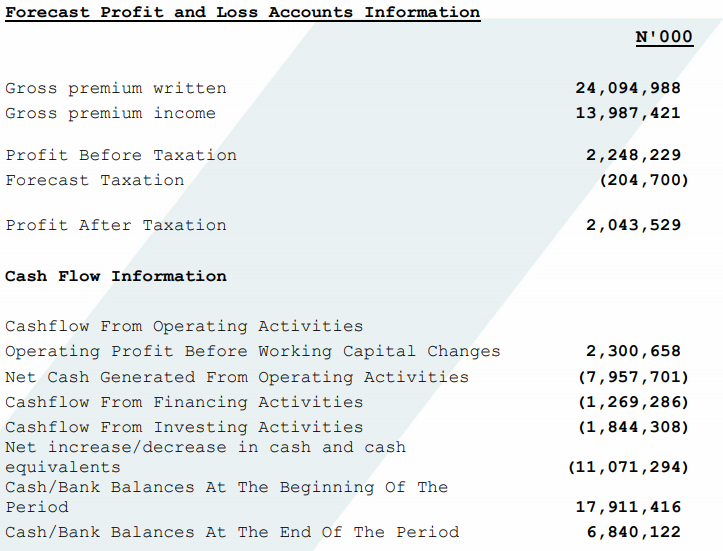 Table: AXA Mansard Insurance Plc Q1 2021 Profit/Loss forecast
In it's Statement of Cash Flows forecast, MANSARD projects that it will used a total of N11.071 billion cash and cash equivalents in the first quarter of 2021, leaving it with a cash and cash equivalent of N6.840 billion at the end of the period.
On December 9, 2020, Investogist reported that AXA Mansard Insurance Plc Shareholders had approved a distribution of 17 bonus shares for every 7 ordinary shares held at its recent Extra-ordinary General Meeting.
About the company
The Company was incorporated on 23 June 1989 as a private limited liability company called "Heritage Assurance Limited" and issued with a composite insurance license by the National Insurance Commission in March 2004.
The Company's name was changed to Guaranty Trust Assurance Limited in September 2004 following the acquisition of a majority share holding by Guaranty Trust Bank Plc, and changed again to Guaranty Trust Assurance Plc in March 2006 following the increase in number of members beyond the maximum required for a private company. In November 2009, the Company became listed on the Nigerian Stock Exchange.
By; Nnamdi M.