United Bank for Africa Plc (NGX Ticker: UBA) released its long awaited financial statements for the half year period ended 30 June, 2021 earlier in the week.
The Financial Statements posted to the Nigerian Exchange Limited shows that the bank grew its profit for the period by 36.35% to N60.58 billion.
In a corporate action announcement that was posted shortly after the financial statements, the bank proposed an interim dividend of N0.20 for every ordinary share of 50 kobo each, subject to applicable withholding tax.
Read also; Guaranty Trust Holding Company (GTCO) profit falls 15.8% in H1 2021
The interim dividend will be paid to shareholders whose names appear in the Register of Members as at the close of business on Thursday, September 23, 2021.
Analysis of the report: Statement of Profit or Loss and Comprehensive Income
The bank's interest income increased by 8.29% year on year, from N205.58bn reported in H1 2020 to N222.63bn.
The majority of the interest income came from loans to corporations (N83.17bn from term loans and N22.06bn from Overdrafts).
Investment securities accounted for 38.14% of the interest income; N59.35bn from Treasury bills and N25.57bn from Bonds.
There was a 13.56% reduction in interest expense, mainly due to the reduction in interest expense on Deposits from customers from N53.38bn to N42.43bn.
N74.08bn was reported as Fees and commission income, a 32.61% increase from the N55.86bn reported in H1 2020.
The top 5 contributors to the Fees and commission income are as follows;
Electronic banking income was N29.60bn (H1 2020: N17.93bn)
Trade transactions income was N9.90bn (H1 2020: N9.49bn)
Credit-related fees and commissions was N7.40bn (H1 2020: N5.05bn)
Funds transfer fee was N7.08bn (H1 2020: N3.85bn)
Commissions on transactional services was N6.62bn (H1 2020: N9.06bn)
UBA spent N42.62bn on Employee benefits, with N40.57bn going to wages and salaries. This expense is 4.36% lower than N44.56bn the bank spent on the same in H1 2020.
Profit Before Tax was up by 33.36% from N57.12bn the bank reported in H1 2020 to N76.18bn.
The Profit for the period grew by 36.35% to N60.58 (H1 2020: N44.43bn), and the Earnings Per Share as reported was N1.69 (H1 2020: N1.24).
Analysis of the report: Statement of Financial Position
There were single digit growth across the major components of the banks balance sheet except for the cash and cash balances with banks which increased by 10.16%.
The major components of the balance sheet as at 30 June, 2021 are as below;
Cash and cash balances with banks stood at N2.06tn (31 Dec. 2020: N1.87tn).
Total Assets increased by 8.02% to N8.31tn as at 30 June 2021, when compared with the N7.69tn held as at 31 December 2020.
Deposits from customers increased by 7.39% to N6.09tn up from N5.67tn on the books as at 31 December 2020.
Total Liabilities increased by 8.45% to N7.56tn (31 Dec. 2020: N6.97tn).
The bank's retained earnings went up by 6.41% to N271.40bn (As at 31 Dec. 2020: N255.05bn).
Total Shareholders Equity was up by 3.92% to N752.52bn (As at Dec. 2020: N724.14bn).
The bank's Total Assets as at 30 June 2021 was funded 90.95% by Liabilities and 9.05% by Shareholders Equity.
Analysis of the result: Statements of Cash Flows
An analysis of the Cash flow statement shows the below movement in cash over the period in review;
Net cash flows generated from operating activities decreased to N546.14 billion, from N628.49 billion generated in H1 2020.
Net cash used in investing activities was N326.89bn, lower than the N469.66bn used in H1 2020.
Net cash of N181.86 billion was used in Financing activities against N302.31bn used in H1 2020.
Cash and cash equivalents at the end of the period was N879.16 billion, an increase from the N514.88 billion held at the same time in 2020.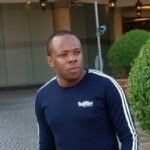 Nnamdi Maduakor is a Writer, Investor and Entrepreneur