UAC of Nigeria Plc, a company domiciled in Nigeria and listed on the Nigerian Exchange Limited, under the ticker name UACN, has signed a binding agreement to acquire Tiger Brands Limited's minority shareholding in UAC Foods Limited.
This was announced in a notification signed by the Company Secretary/General Counsel Nkemdirin Agboti and published on the Nigerian Exchange Limited.
Upon completion of the purchase, UAC Foods will continue to operate as a subsidiary of UACN providing nutrition to millions of Nigerians. The purchase is expected to be completed in September 2021.
UACN has an investment of N2.41 billion in UAC Foods Limited. As at 31st December 2020, It owns 51% of UAC Foods' 102,000,000 unquoted ordinary shares of 50k each.
Read also; Zenith Bank Plc Directors declare over N9 bn as interim dividend for H1 2021
As at 30 September 2020, Tiger Brands Limited held 49% of the unquoted ordinary shares of UAC Foods Limited.
About Tiger Brands Limited
Tiger Brands domiciled in South Africa is one of Africa's largest, listed manufacturers of fast-moving consumer goods (FMCG). It's core business is manufacturing, marketing and distribution of everyday branded food to middle-income consumers. They also distribute leading brands in the home, personal care and baby sectors through a unified customer sales team and integrated supply chain that leverages the group's scale.
Tiger Brands is active in sub-Saharan Africa's (SSA) largest consumer markets, and holds meaningful minority shareholding interest in associate companies:
Chile: Empresas Carozzí (24,4%) (FMCG)
Nigeria: UAC Foods Limited (49,0%) (FMCG) – Now being bought by UAC of Nigeria Plc
Zimbabwe: ZSE-listed FMCG company National Foods Holdings Limited (37,4%) (FMCG).
About UAC of Nigeria Plc
UAC of Nigeria PLC is a limited company incorporated and domiciled in Nigeria and whose shares are publicly traded. The registered office is located at 1-5 Odunlami Street, Marina, Lagos.
The Group is a diversified business with activities in the following principal sectors: Animal Feeds and Other Edibles, Paints, Packaged Foods and Beverages, Quick Service Restaurants, Logistics, and Real Estate.
UACN have 2.88 billion outstanding shares and a market capitalization of N31.55 billion. It's share price is currently at N11.00. The 52 week low price is N5.50 while the 52 week high price is N11.50.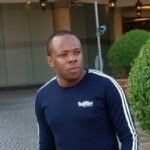 Nnamdi Maduakor is a Writer, Investor and Entrepreneur