The Nigerian Senate has confirmed the nomination of Yemi Cardoso as the Governor of the Central Bank of Nigeria, along with four others as deputy governors of the bank.
Also read; Nigeria declares Wednesday public holiday to celebrate Eid-ul-Maulid
The confirmations were made on Tuesday after the screening of the Nominees by the Senate.
President Tinubu had nominated Olayemi Michael Cardoso to serve as the new Governor of the Central Bank of Nigeria on the 15th of September, 2023. The President also nominated four deputy governors on the same day; Mrs. Emem Nnana Usoro, Mr. Muhammad Sani Abdullahi Dattijo, Mr. Philip Ikeazor and Dr. Bala M. Bello.
"The nomination of Olayemi Cardoso is hereby confirmed as governor of the Central Bank of Nigeria (CBN)," Senate President Godswill Akpabio said, confirming all five to serve in their respective positions for five years at first instance.
The nominees were asked several questions on matters related to economic and other policies before their confirmation.
During the screening, Cardoso promised to embrace compliance, assuring that under his leadership, the apex bank would remain apolitical.
"I believe that the Central Bank under our watch will have no choice but to embrace a culture of compliance," he said.
"We will not wait for oversight to come and tell us what to do. We will ensure that by the time the system is passing through us, we catch it and we deal with it," said Cardoso who promised zero tolerance for abuse of compliance.
"That is a cultural shift, a change in mindset, but we will make sure it happens," the former Citibank Nigeria chairman assured.
Dr. Cardoso along with his duties assumed duty at the CBN in acting capacities on Friday.
He replaces Godwin Emefiele as the apex bank boss. Emefiele took charge at the Central Bank in 2014, he was arrested by the Department of State Services (DSS) but released on bail, when President Tinubu took office. He is currently being tried on an alleged N6.9bn fraud.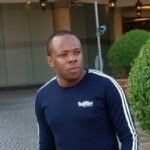 Nnamdi Maduakor is a Writer, Investor and Entrepreneur