Axxela Funding 1 Plc's N11,500,000,000 Series 1; 14.30% Fixed Rate Bonds due 2027, under the N50,000,000,000 Bond Issuance Program were on Thursday, 16 July 2020 listed on The Nigerian Stock Exchange (NSE).
The bond with a fixed coupon rate of 14.3% was listed with a Symbol Code of AXA2027S1. The bond's volume is 11,500,000 at a price of N1,000.
The seven year bond was issued on 20 May 2020 with a maturity date of 20 May 2027.
The coupon payment is semi-annual payments, payable in arrears on the 6th and 12th month of each year from the Issue date up to and including the Maturity Date. The details are shown below.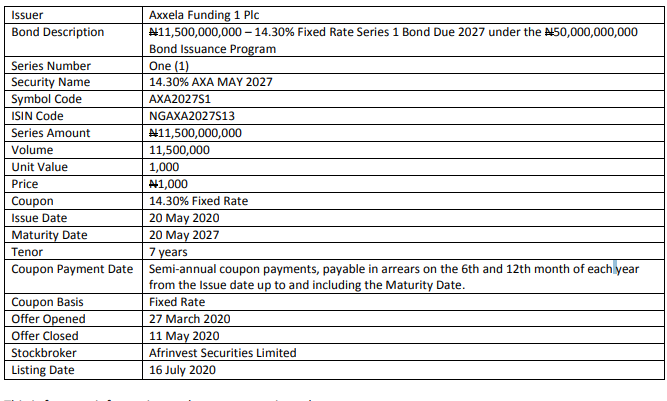 The Axxela Series 1 bond was last week listed on the FMDQ Exchange. According to Nairametrics, FMDQ explained that Axxela Funding 1 PLC is a special purpose vehicle (SPV) incorporated by Axxela Limited to raise funds through the issuance of debt securities in the domestic capital market.
Written by;
Ifunanya Ikueze