Union Bank of Nigeria Plc (NSE – UBN) recorded a 3.6% increase in Gross Earnings for the nine months ended 30 September 2020 with a 0.8% decline in the profit after taxation for the same period according to its Unaudited Financial Statements for the period filed with the Nigerian Stock Exchange (NSE).
The decline in profit despite a rise in earnings was attributed to the N775 million loss recorded from discontinued operations against a profit of N102 million reported in the same period in 2019 from discontinued operations.
However, the group recorded an increase in profit after taxation in the third quarter (Q3) ending 30 September 2020
The Group's gross earnings rose to N121.38 billion in nine months from N117.15 billion reported in 2019. The bank accounted for 98% of the gross earnings an increase from the 96% it contributed in 2019.
In Q3 the gross earnings declined by 3.9% to N39.53 billion from N41.14 billion in 2019.
The major components of the Group's nine months gross earnings are:
Interest income – N85.61 billion
Net trading income – N11,886 billion
Fees and commissions income – N9,889 billion
The group recorded a total expense of N53.58 billion slightly up from N53.4 billion posted in 2019.
Major components are as follows;
Personnel expense – N22.88 billion
Depreciation and amortization – N4.80 billion
Other operating expenses – N25.90 billion
The profit after taxation slightly dropped to N15.07 billion in nine months 2020 from N15.19 billion reported in 2019. However, in Q3, the profit after taxation rose by 29.1% to N4.31 billion from N3.34 billion in 2019 Q3.
The bank accounted for 103% (N15.51 billion) of the nine months 2020 profit after tax up from 101% (N15.30 billion) contribution in 2019.
The basic earnings per share for the Nine months stood 54 kobo in 2020.
The total group's total assets increased by 19.4% to N2.24 trillion as at 30 September 2020 from N1.87 trillion as at 31 December 2019.
Major components of the assets column are;
Loans and advances to customers at amortized cost – N627.37 billion
Cash reserve requirement – N537.65 billion
Investment securities – N309.04 billion
Cash and cash equivalents – N232.69 billion
Similarly, the total liabilities rose by 21.8% to N1.97 trillion from N1.62 trillion as at 31 December 2019
Major components of the liabilities column are;
Deposits from customers – N1.13 trillion (N886.26 billion in 2019)
Other liabilities – N508.67 billion
Other borrowed funds – N148.64 billion (N109.92 billion)
Total equity rose by 4.0% to N262.45 billion from N252.34 billion as at 31 December 2019.
Changes in equity
Share capital and share premium rose to N255.83 billion from N245.80 billion in 2019
Retained earnings rose to N27.159 billion from N21.44 billion in 2019.
Other reserves rose to N80.51 billion from N76.52 billion in 2019
Union Bank faced a tight cash flow from its operating activities as it used N16.36 billion in the operating activities against N148.12 billion it generated from the activities in 2019.
Similarly, N54.60 billion and N17.96 billion were used in investing and financing activities respectively. However, the group was able to post positive cash and cash equivalents of N232.77 billion at the end of the period due to the N320.30 billion cash and cash equivalents at beginning of the year.
Bank Financial Highlights:
Gross earnings: up 6% to ₦118.8bn (from ₦111.9bn in 9M 2019), driven by an increase in earning assets.
Interest income: up 1% at ₦85.4bn (from ₦84.9bn in 9M 2019).
Net interest income before impairment: up 15% to ₦41.7bn (from ₦36.4bn in 9M 2019), driven by an increase in earnings assets and lower interest expense.
Non-interest income: up 23% to ₦33.4bn (from ₦27.1bn in 9M 2019), supported by increased trading income and asset revaluation gains.
Net operating income: up 1% to ₦69.3bn (from ₦68.7bn in 9M 2019).
Operating expenses: relatively flat at ₦53.4bn (from ₦53.2bn in 9M 2019), despite currency depreciation, inflationary pressures, and unplanned Covid-19 related expenses.
Profit before tax: up 2% to ₦15.9bn (from ₦15.5bn in 9M 2019).
Gross loans: up 14% to ₦678.0bn (from ₦595.3bn in Dec 2019), reflecting the impact of our targeted lending to the real sector.
Customer deposits: up 28% to ₦1.1tr (from ₦886.3bn in Dec 2019) reflecting gains on our investments in customer-led products and digital channels which resulted in the acquisition of over 600K new-to-bank customers and deepening of wallet share of existing customers.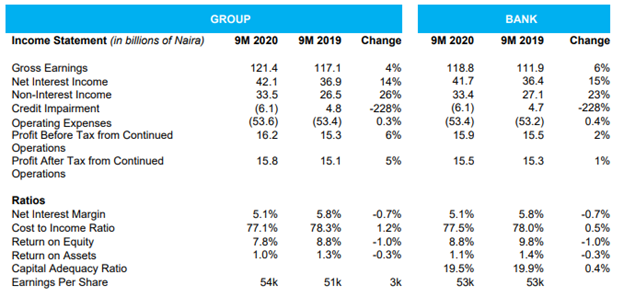 Source: Union Bank of Nigeria PLC unaudited financial statements
About Union Bank of Nigeria PLC
Established in 1917 and listed on the Nigerian Stock Exchange in 1971, Union Bank is a household name and one of Nigeria's long-standing and most respected financial institutions. The Bank has a network of over 240 Sales and Service Centers across Nigeria.
Following a recapitalization in 2012 from new investors and a new Executive Management team, Union Bank has undergone an award-winning transformation programme to re-establish the bank as a leading provider of financial services in Nigeria.
Union Bank is focused on Retail, Commercial, and Corporate Banking businesses. In addition to standard current and savings product portfolio, Union Bank has launched pioneering products into the Nigerian retail market including UnionKorrect, UnionGoal, and UnionBetta
UBN is down by 1.69% to N5.80 per share on the floor of the Exchange on Thursday at the time of this report.
By; Ifunanya Ikueze