FBN Holdings Plc (NSE – FBNH) recorded increases in both gross earnings, profit from continuing operations, and profit for the period according to its unaudited financial statements for the first nine months of the year, filed with the Nigerian Stock Exchange (NSE).
Despite the increases, the First Bank lags behind other Tier One Banks in Nigeria (FUGAZ – FBNH, UBA, GUARANTY, ACCESS, AND ZENITH) in terms of profit for the nine months ended 30 September 2020 (January to September 2020).
FBNH and UBA are the only banks in the group to report a profit of less than N100 billion for the period under review.
FBNH grew its gross earnings by 5.1% to N439.33 billion in nine months 2020 from N417.85 billion reported in the same period in 2019.
The rise was mainly a result of the 452.2% jump in the net gains from investment in securities to N41.18 billion from N7.46 billion, coupled with a 15.2% rise in fees and commissions income to N87.59 billion from N76.05 billion.
These increases were enough to offset the 6.8% decline suffered in the interest income which dipped to N297.71 billion from N319.56 billion.
Nevertheless, interest income remains the main source of income as it accounted for 67.8% down from 76.5% it represented in 2019 nine months.
In Q3 (July to September) the interest income stood at N90.30 billion down from N102.80 billion in 2019. Whereas the fees and commission income rose to N31.81 billion from N26.99 billion in 2019.
Although FBNH's operating expenses declined by 3.6% (N4.39 billion) to N117.03 billion, the drop was canceled out by the 7.2% (N4.97 billion) rise in the personnel expenses to N74.18 billion from N69.23 billion in 2019.
FBNH profit summary
Profit before tax rose by 16.2% to N63.31 billion from N54.47 billion.
Taxation rose by 24.0% to N8.96 billion from N7.22 billion.
Profit after tax from continued operations rose by 15.0% to N54.36 billion from N47.25 billion.
Profit for the period rose by 31.7% to N68.16 billion from N51.75 billion due to the N13.80 billion profit from discontinued operations, up from N4.50 billion recorded in 2019.
The earnings per share settled at N1.51 per share up from N1.30 per share in 2019.
Break down of the interest income
Loans and advances to customer – N190.49 billion
Investment securities – N100.47
Loans and advances to banks – N6.75 billion
Major components of the fees and commissions income
Electronic banking fees – N34.60 billion
Account maintenance – N8.81 billion
Letters of credit commissions and fees – N8.405 billion
Credit-related fees – N5.39 billion
FBNH grew its total assets by 16.8% to N7.24 trillion as at 31 September compared to the figures as at 31 December 2019.
Major components  of the assets
Cash and balances with central banks rose to N1.75 trillion from N1.03 trillion
Loans and advances to customers rose to N2.04 trillion from N1.85 trillion
Loans and advances to banks rose to N815.60 billion from N754.91 billion
Investment securities declined to N1.27 trillion from N1.41 trillion
Similarly, total liabilities grew by 17.8% to N6.53 trillion while total equity grew by 7.7% to N712.06 billion.
Major components of the liabilities
Deposits from customers rose to N4.63 trillion from N4.02 trillion
Deposits from banks rose to N1.12 trillion from N860.49 billion
Borrowings declined to N248.20 billion from N250.60 billion
Cash flow remained robust during the period in review due to the Cash and cash equivalents at the start of the period amounting to N1.30 trillion.
During the period FBNH used N105.39 billion in its operating activities, compared to N68.82 billion used in the same activities in 2019.
N34.55 billion was generated from the investing activities, significantly down from N260.16 billion generated in 2019.
N25.83 billion was used in the financing activities compared to N177.58 billion in 2019.
Read also: GDP contraction: Nigeria falls into second recession in five years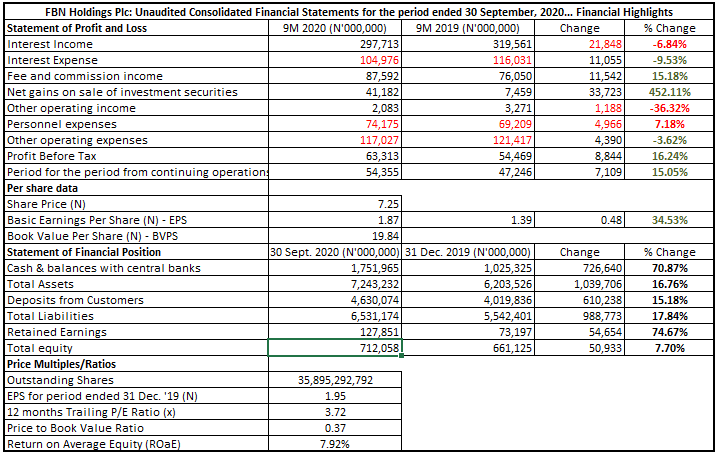 These financial statements are the consolidated financial statements of FBN Holdings Plc and its subsidiaries. The principal activities of the Group are mainly the provision of commercial banking services, merchant banking and asset management services, insurance business services, and provision of other financial services and corporate banking.
Its subsidiaries include;
First Bank of Nigeria Limited: the bank commenced operations in Nigeria in 1894 as a branch of Bank of British West Africa (BBWA), and was incorporated as a private limited liability company in Nigeria in 1969. The Bank was the parent company of the Group until 30 November 2012, when a business restructuring was effected in accordance with the directives of the Central Bank of Nigeria and FBN Holdings Plc (FBNH) became the parent company of the Group. In June 2020, FBNH injected the sum of N25 billion as additional tier 1 equity
FBNQuest Capital Limited is a private limited liability company incorporated in Nigeria and commenced operations on 1 April 2005. It is registered with the Securities and Exchange Commission (SEC) to undertake issuing house business. It is also involved in the business of asset management and financial advisory.
FBN Life Assurance Limited: First Bank has a holding of 65% in the equity of FBN Life Assurance Limited. Consequent upon the restructuring of 2012, the investment is transferred to FBN Holdings Plc. and the name of the company was changed to FBN Insurance Limited (FBNI) in 2014. Following the decision of the Board of Directors to divest from FBN Insurance Limited, the investment in this subsidiary was classified as discontinued operations. The divestment was completed on June 1, 2020 and FBNI ceased to be a subsidiary of FBNH.
FBN Insurance Brokers Limited: The company was incorporated under the Companies and Allied Matters Act, as a limited liability company on 31 March 1994 with the name 'Trust Link Insurance Brokers Limited'. The company prepared financial statements up to 31 March 1998 after which it became dormant. The company was resuscitated on 1 April 2000 as FBN Insurance Brokers Limited. The principal activity of the company is insurance brokerage business.
FBNQuest Merchant Bank Limited : The Company was incorporated in Nigeria as a limited liability company on 14 February 1995 and was granted a license to carry on the business of a discount house and commenced operations on 16 November 1995. In 2015, the Company was transformed into a merchant bank. The Central Bank of Nigeria (CBN) license for merchant banking was obtained in May 2015 and while merchant banking operations commenced on 2 November, 2015.
Others are FBNQuest Trustees Limited, FBNQuest Funds Limited, New Villa Limited (Rainbow Town Development Limited)
By: Ifunanya Ikueze