The Nigerian National Petroleum Corporation (NNPC) has come a long way, from the formation of the Nigerian National Oil Corporation (NNOC) in 1971 to the merger that gave birth to the Nigerian National Petroleum Corporation in 1977.
The years led to the launch of the new Nigerian National Petroleum Company Limited by President Muhammadu Buhari on 19th July 2022.
Earlier in August 2021, President Muhammadu Buhari signed the Petroleum Industry Act into law. The PIA provides legal, governance, regulatory and fiscal framework for the Nigerian petroleum industry, the development of host communities, and related matters. The Senate had passed the Bill on July 15, 2021, while the House of Representatives did same on July 16, thus ending a long wait since early 2000s.
The new NNPC Limited launched in July 2022 came with a new logo and a new motto, "Energy for Today, Energy for Tomorrow."
Who are those saddled with the responsibility of delivering on this new vision for NNPC Limited?
NNPC Limited Board of Directors
President Muhammadu Buhari appointed the Board and Management of the Nigerian National Petroleum Company Limited, in accordance with the power vested in him under Section 59(2) of the Petroleum Industry Act 2021 on January 5, 2022.
1). Senator Margery C. Okadigbo: Chairman, Board of Directors – Senator Margery Chuba-Okadigbo brings more than 40 years of experience implementing strategic policies and leading complex, high-growth organizations and projects through rapid expansion across Nigeria.
Upon completion of her law degree at the University of Nigeria, Nsukka in 1981, she was called to the Nigerian Bar in 1982. Senator Okadigbo attended the prestigious George Washington University, USA where she obtained her Master's Degree in Law (MCL) specializing in Comparative International Law and Negotiations.
She is a Notary Public of the Federal Republic of Nigeria. Senator Okadigbo represented Anambra North Senatorial District as a Senator of the Federal Republic of Nigeria from 2011 -2015.
She was the Vice-Chairman Health Committee and member of numerous committees such as Subsidy Reinvestment and Empowerment Program (SURE-P), Environment, Judiciary, FCT, Aviation and Constitutional Review.
Further to her career development, she attained professional certificates in high performance leadership, decision making, and strategic programs at renowned institutions such as Harvard University, Georgetown University, and the University of Chicago's Booth Business School.
2). Mr. Ahmed Aliyu: Director/Permanent Secretary Federal Ministry of Finance – Aliyu Ahmed was appointed Permanent Secretary in the Federal Civil Service on the 18th of December 2019 and deployed to the Federal Ministry of Finance (FMF) responsible for Special Duties.
Subsequently, he was deployed to take over as Permanent Secretary, Federal Ministry of Finance with effect from the 24th of September 2020 and by virtue of the provision of the Central Bank of Nigeria (CBN) Act 2007 (as amended), Mr. Aliyu automatically resumed as a Non-Executive Director of the CBN on the 25th of September 2020.
Prior to his appointment, Mr. Aliyu had served as Senior Advisor to the Executive Director responsible for Angola, Nigeria and South Africa at the World Bank Headquarters in Washington DC, USA; and Special Assistant to the Permanent Secretary in Economic Affairs Office at the Presidency (1999); Federal Ministry of Industry (2000 and 2001); and Federal Ministry of Finance (2001).
During his career, Mr. Aliyu served on a number of Committees and Panels. He was a member of the Board of Directors of Africa Export Import Bank, Cairo Egypt; OPEC Fund for International Development (OFID), Vienna, Austria; ECOWAS Bank for Investment and Development (EBID), Lome, Togo etc.
He also taught at the Usman Danfodio University, Sokoto between 1989 to 1993 before joining the Federal Civil Service as Principal Finance Officer.
Mr. Aliyu obtained MSc. Financial Economics from the University of Strathclyde, Glasgow, UK in 2002; MBA (Finance) from the University of Lagos in 1989; and BSc. Quantity Survey in 1986 from the prestigious Ahmadu Bello University, Zaria.
He attended the National Defence Collage from 2009 to 2010 and was conferred with the Fellowship of National Defence Collage (FDC).
3). Mele Kolo Kyari: Director/Chief Executive Officer- Mallam Mele Kyari comes to the job with a very rich oil and gas industry experience spanning over 27 years.
A 1987 graduate of Geology and Earth Science from the University of Maiduguri.
He served as a Well Site Geologist with the Directorate of Foods, Roads and Rural Infrastructure (DFRRI) between 1987 and 1988 under the National Youth Service Corps.
Thereafter, he worked with the Nigerian Geological Survey Agency between 1988 and 1991 before joining NNPC as a Seismic Data Processing Geophysicist in the Data Processing Department of Integrated Data Services Limited (IDSL) in 1992.
He also made his mark as a labour union leader when he served as the NNPC Group Chairman of the Petroleum and Natural Gas Senior Staff Association of Nigeria (PENGASSAN) from 1997 to 1999.
He was later appointed as Exploration Geophysicist, Production Sharing Contract (PSC), at the National Petroleum Investments Management Services (NAPIMS) in 1998 from where he was made the Head of NAPIMS Operations in Abuja in 2004.
In 2006, he was appointed the Supervisor PSC, Crude Oil Marketing Department (COMD) of the NNPC, from where he rose to the position of Head, and later Manager of Production Contracts Management of the COMD between 2007 and 2014.
Mr Kyari was appointed General Manager Oil Stock Management, COMD where he worked till 2015 when he was appointed Group General Manager, COMD and later Nigeria's National Representative at OPEC.
4). Umar Ajiya: Director/Chief Financial Officer NNPC Ltd – Umar Ajiya holds a B.Sc Accounting from Ahmadu Bello University Zaria, Nigeria in 1987 and MBA from the Lagos State University, Nigeria in 1998. Ajiya has about 30 years' experience in oil and gas sector.
He started his working career in 1987 at Peugeot Automobile in Kaduna State, Nigeria where he took part in the mandatory National Youth Service Corp (NYSC) after which he joined Elf Petroleum Nigeria Limited (now Total Nigeria) in 1988 before leaving in 1991 to work as part of the pioneer staff of Nigeria LNG Limited (NLNG).
Whilst at NLNG, he held several managerial positions including that of Manager Treasury, Finance Manager of BGT and then Marketing & Business Development Manager of NLNG.
Ajiya joined the service of NNPC as General Manager Commercial with the LNG Division under the Gas & Power Directorate of NNPC. He was responsible for the development of a business that led to the establishment of NNPC LNG Limited, a holding company for the NNPC's interest in the LNG Marketing Joint Ventures.
Mr Ajiya was appointed the Group General Manager Corporate Planning & Strategy (CP&S) of NNPC in March 2016.
Mr Ajiya became the Managing Director of Petroleum Products Marketing Corporate (PPMC), a subsidiary of NNPC in July 2017.
Mr Ajiya was appointed the Group Executive Director (GED) Finance and Accounts; the Chief Financial Officer of NNPC in July 2019.
In the course of his career, he has attended several courses home and abroad including colleges and global business schools like Cambridge, Insead Business School of France, IESE Business School of Spain and Wharton School of the University of Pennsylvania, amongst several others. He is also a fellow of the Chartered Institute of Taxation of Nigeria and Fellow of the Nigerian Institute of Management.
5). Chief Pius O. Akinyelure: Director – Chief Pius O. Akinyelure is a seasoned and distinguished administrator, and an oil industry practitioner.
A certified Accountant with a Master of Science Degree in Management, specializing in organizational behaviour, Chief Akinyelure has had over 30 years working experience in the Oil industry at top management/executive levels, both Upstream and Downstream.
Prior to his retirement from Mobil Oil Nigeria Plc on 1st June 1997, he was the Executive Director, Finance and External Relations for the company. He has been Chairman/Director of several companies/financial institutions in the past, which include Wema Bank Plc, Credite Bank Ltd, Odu'a Investment Limited, and others.
6). Engr. Henry Ikem-Obih: Director – Henry Ikem Obih sits on the Board of Fidelity Bank as an Independent Non-Executive Director.
He also serves on the Board of the Nigeria Liquefied Natural Gas Limited (NLNG) and was Group Executive Director/Chief Operating Officer (GED/COO), Downstream, Nigerian National Petroleum Corporation (NNPC) until his retirement in 2019.
Prior to joining NNPC as GED/COO in 2016, Engr. Obih had a stellar 22-year career at Mobil Oil Nigeria (ExxonMobil Nigeria Downstream) and held several other high- profile positions across different areas across the organization such as Operations, Customer Service and Logistics.
His recent leadership roles include Board positions at Nigeria Gas Marketing Company Limited, Pipelines and Products Marketing Company Limited, NNPC Retail Limited, NIDAS Marine Limited (a subsidiary of NNPC in joint venture with Daewoo Industries South Korea), NIKORMA Limited (a subsidiary of NNPC in joint venture with Hyundai Heavy Industries South Korea) and Duke Oil Company Inc.
He holds a Bachelor's Degree in Mechanical Engineering from the University of Nigeria, Nsukka (UNN) and an MBA in Financial Management from the University of Bradford, Yorkshire, England. His professional affiliations include membership of the Institute of Directors; Society for Corporate Governance and Council for the Regulation of Engineering in Nigeria (COREN); Nigerian Institution of Mechanical Engineers; Institute of Credit Administration and Fellow of the Nigerian Society of Engineers. He has also attended executive programs in Leadership, Strategy, Finance, Corporate Governance, and Business Management at some of the world's leading institutions such as Columbia Business School New York, Massachusetts Institute of Technology (MIT), IMD Lausanne, Switzerland, London Business School and Lagos Business School, Nigeria.
7). Dr. Tajuddeen Umar: Director – Dr. Tajudeen Umar is a Petroleum Geologist with some 30 years' experience in the oil and gas industry.
He has held several positions in the public and private sectors ranging from purely technical to management and executive.
His last position in the public sector was that of Executive Chairman, Nigeria-Sao Tome and Principe Joint Development Authority. He also doubled as Executive Director, Monitoring and Inspections, of the same organization while serving as Chairman.
He is presently an independent oil and gas consultant with business interests in various sectors of the economy, specifically the Bank Note Industry. He holds the traditional title of Ciroman Katagum of Katagum Emirate of Bauchi State.
8). Mallam Mohammed Lawal: Director – 
9). Mrs Lami Onayi Ahmed: Director – Mrs. Lami Onayi Ahmed has over 30 years of working experience covering the entire value chain of the oil & gas industry, including working at National Oil, which later became Conoil Plc.
She is a successful businesswoman and philanthropist who is involved in several charity endeavours and humanitarian services across the country. She is an avid golfer with extensive interests across business, social work and politics.
10). Barr. Constance Onukwugha: Director – Barr. Constance Harry Onukwugha is a legal professional with over 28 years of experience in Corporate Law.
She holds a Bachelor Degree of Law (LLB, Hons) from the University of Ibadan, 1994 and BL from the Nigerian Law School, Lagos, 1995. She also holds a Diploma in Human Resources Management from The Chartered Institute of Personnel Management, Nigeria. (CIPMN).
Among other positions, she also worked with the Rivers State Ministry of Justice as a State Counsel, thereafter worked with Forthright Integrated Services limited as Director Human Resources Management; with the responsibility of maintaining an optimal organizational structure to support the achievement of the company's goals and objectives also ensuring appropriate balance between staff personal and professional goals.
In 2013, she set up her own Law and Estate Management Firm; Constance Harry & Co. where she is the principal partner and Chief Executive Officer of the firm till date.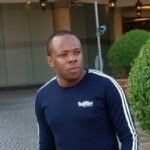 Nnamdi Maduakor is a Writer, Investor and Entrepreneur