The Central Bank of Nigeria (CBN) has released a regulatory guideline for the eNaira, which was launched on Monday, 25 October 2021.
The eNaira Speed Wallet app is available for download, and has been downloaded more than 50,000 times as at the time of writing this report.
According to the guideline released by the CBN, "transactions that originate from the eNaira platform shall be free for the first 90 days commencing from October 25, 2021 and then revert to applicable charges as outlined in the Guide to Charges by Banks, Other Financial and Non-bank Financial Institutions."
On the process of onboarding participants on the eNaira platform, the CBN said that banks will be automatically onboarded by the CBN while merchants will be onboarded once they download the app and individuals will have to onboard by themselves.
The apex bank however noted that "for a successful self-service enrollment on the eNaira Speed App, the mandatory requirements for some BVN details must match similar details attached to the consumer's profile at the BVN database."
eNaira Wallets
"The eNaira platform shall host eNaira wallets for different stakeholders," according to the guideline.
"The eNaira stock wallet belongs solely to the CBN and it shall warehouse all minted eNaira."
Financial Institution are expected to maintain one treasury eNaira wallet to warehouse eNaira received from the CBN eNaira stock wallet.
However, the guideline noted that a Financial Institution "may create eNaira branch sub-wallets for its branches. The eNaira branch subwallet shall be funded from the treasury eNaira wallet."
"eNaira Merchant speed wallets shall be used solely for receiving and making eNaira payments for goods and services."
"eNaira speed wallets shall be available for end users to transact on the eNaira platform."
The daily transaction limit and balance limit on the eNaira wallet is tier based, according to the guideline, with tier 0 having the least daily transaction limit of N20,000 while tier 3 has a daily transaction limit of N1 million.
However, there is no daily transaction limit or balance limit for merchants.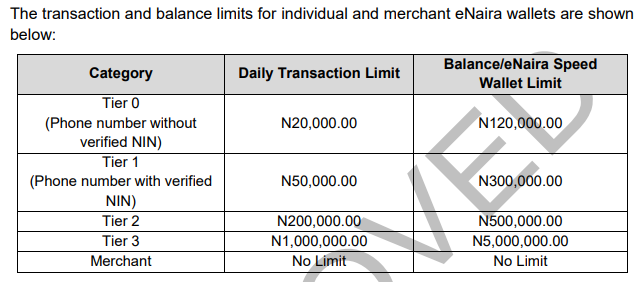 Source: CBN Regulatory Guidelines on the eNaira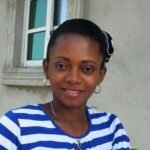 Ifunanya Ikueze is an Engineer, Safety Professional, Writer, Investor, Entrepreneur and Educator.