Dangote Cement Plc (NGX: DANCEM) has announced that its has received approval from the Securities and Exchange Commission to establish a new share buy-back programme.
Also read; MTN Nigeria completes allotment of incentive shares to Shareholders
The programme according to the company will expire on 12 December 2023, 12 months from the date of the shareholders' resolution.
At an Extraordinary General Meeting (EGM) of the company held on 13th December 2022, the Shareholders passed a special resolution stating;
1) "That, the Company be and is hereby authorized to undertake a share buyback of up to 10% of its issued shares as of the date of this resolution (excluding any treasury shares in the Company's share capital), on such terms and conditions, in such volumes and at such times as the Board of Directors ("Board") deems fit, provided that the authority granted herein shall continue to be in force until the Company has acquired up to an aggregate 10% of its issued shares as stated above.
The share buy-back will be undertaken through an open market offer or self-tender, at such times and on such terms as the Management of the Company may determine, subject to prevailing market conditions.
The Company stated that it will continue to monitor the evolving business environment and market conditions, in making decisions on tranches of the share buy-back programme.
Investogist recalls that Dangote Cement Plc purchased 40,200,000 million ordinary shares of 50kobo each in the period from December 30, 2020 to December 31, 2020 and 126,748,153 million ordinary shares of 50 kobo each in the period from January 19, 2022 to January 20, 2022 following approval by shareholders at the EGM held on January 22, 2020 and the Annual General Meeting held on May 26, 2021.
A buyback, also known as a share repurchase, is when a company buys its own outstanding shares to reduce the number of shares available on the open market.
Companies buy back shares for a number of reasons, such as to increase the value of remaining shares available by reducing the supply or to prevent other shareholders from taking a controlling stake.
About Dangote Cement Plc
Dangote Cement Plc is Sub-Saharan Africa's largest cement producer with an installed capacity of 51.6Mta capacity across 10 African countries. It operates a fully integrated "quarry-to-customer" business with activities covering manufacturing, sales and distribution of cement.
It has a production capacity of 35.3Mta in its home market, Nigeria. Its Obajana plant in Kogi state, Nigeria, is the largest in Africa with 16.3Mta of capacity across four lines; its Ibese plant in Ogun State has four cement lines with a combined installed capacity of 12Mta, its Gboko plant in Benue state has 4Mta and its Okpella plant in Edo state has 3Mta.
In addition, Dangote Cement has operations in Cameroon (1.5Mta clinker grinding), Congo (1.5Mta), Ghana (1.5Mta import), Ethiopia (2.5Mta), Senegal (1.5Mta), Sierra Leone (0.5Mta import), South Africa (2.8Mta), Tanzania (3.0Mta), Zambia (1.5Mta).
Dangote Cement is a subsidiary of Dangote Industries Limited, a diversified and fully integrated conglomerate as well as a leading brand across Africa in businesses such as cement, sugar, salt, flour, pasta, beverages, and real estate, with new multibillion-dollar projects underway in the oil and gas, petrochemical, fertilizer and agricultural sectors.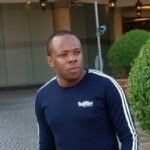 Nnamdi Maduakor is a Writer, Investor and Entrepreneur