Airtel Africa Plc (NGX: AIRTELAFRI) has announced that it will pay an interim dividend of 2.18 cents per ordinary share for the half year  period 2022-23.
The company stated that the interim dividend will be paid in U.S Dollars, however it offers it's shareholders the opportunity to elect to receive their dividend payments in Pounds Sterling or Naira via Currency Elections.
Also read; N1.4bn Bank Fraud: EFCC Arrests Kogi Assembly Candidate with N326m, $610,500 Cash
The dividend timetable dates are as per below;
Ex-dividend date: 10 November 2022
Record date: 11 November 2022
Last Date for Currency Elections: 28 November 2022
Payment date: On or around 9 December 2022
The company went on to state that details regarding the default currency and options on currency election for the dividend, and the currency exchange rates that will be applicable in determination of the Half Year 2022-23 interim dividend payment to shareholders that qualify for and have elected to receive the Half Year 2022-23 interim dividend payment in Pounds Sterling or Naira will be issued in due course.
For the year half period ended 30 September 2022, Airtel reported a Profit after tax of $330m, lower by 1.5% due to higher foreign exchange and derivative losses of $160m.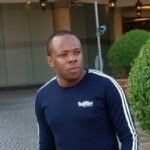 Nnamdi Maduakor is a Writer, Investor and Entrepreneur